It may be hard to believe now, but Ocho Rios was once little more than a sleepy Jamaican fishing town. Though that image is at odds with the tourist hotspot it has become, there's still more charm and serenity in the town than you might expect. Yes, the list of things to do in Ocho Rios includes the typical beaches and tourist fare, but with a history that includes pirates, waterfalls, spies, and reggae legends, this Jamaican town quickly proves it's anything but ordinary.
What You Need to Know
Jamaican weather is generally pretty consistent year round, with two short rainy seasons running from May to June and September to November. Having said that, there's really no bad time to visit Ocho Rios. Most activities are unimpeded by rain, and storms are relatively infrequent. While hurricanes are relatively rare in the area, it's best to check the forecasts if you're traveling between June and November, just to be on the safe side. Bargain hunters should look to travel near the end of the year, in the November to mid-December period, when flights and hotels offer their best deals.
Outside of weather, be aware that Ocho Rios, like many major tourist destinations, can be home to some seedy characters. Be aware of your belongings at all times, and, if you are planning excursions, use trusted tour agencies and those recommended by your hotel. Self-guided tours are not recommended. In other words, just make sure you're in good hands before you start your rest and relaxation. Speaking of r n' r, don't forget to bring plenty of sunscreen and pack your trunks!
Cruise Ships vs. Resorts
Before you actually set foot in Ocho Rios, however, it's best to decide how you'd like to visit. The Jamaican port town is quite popular with many major cruise lines (Carnival, Royal Caribbean, Norwegian, etc.), all of which allow guests to go into town for the day as they make port. Some of these ships offer pre-planned shore excursions that are worth looking into, though you can also tour with a local agency if you so choose. A cruise ship stopover will allow you to see at least a few of the major highlights here and combine them with unique experiences elsewhere in the Caribbean. Note that while the vast majority of cruises include an all-inclusive dining package, you're more than welcome to sample the local cuisine if anything in town catches your eye.
If you really want to dig into this beautiful city, or at the very least spend more than a day in the area, you're better off booking a resort. There are many respectable options here, including the famous Jamaica Inn, which has played host to the likes of Marilyn Monroe, among others. The resort offers packages for any occasion, though they tend to change throughout the year. Hermosa Cove offers resort amenities in a boutique villa package, and other contenders include Moon Palace Jamaica and the adults-only Sandals Royal Plantation. While non-resort accommodations are available, resorts come strongly recommended due to their all-inclusive service and invaluable ability to arrange tours of the area and local attractions. Of course, that's only if you want to leave the resort in the first place!
There is one drawback to this option, however: price. While resorts place you right in the lap of luxury, they may at times be even more expensive than their rivals at sea. Be sure to check cruise and resort pricing to make sure whatever choice you make is right for you.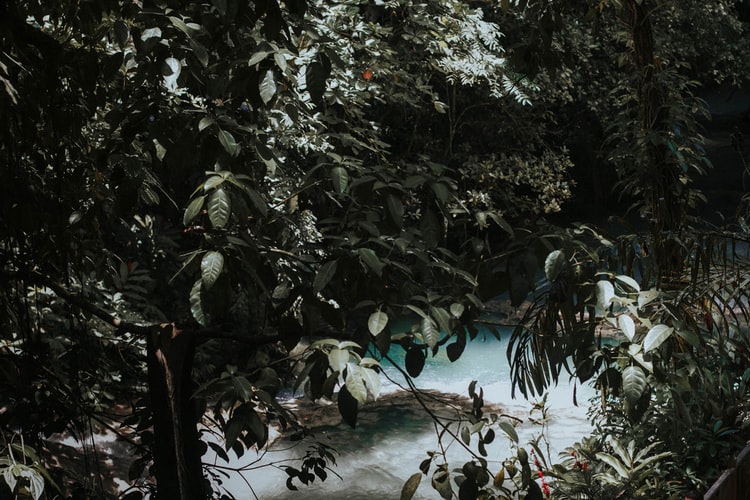 Nature Explorations
Just beyond its borders, Ocho Rios gives way to stunning Caribbean environments and not-so hidden gems. The stand out attractions here are the city's dozens of cascading waterfalls, with the most famous – Dunn's River Falls – topping countless itineraries. It's not hard to see why. Dunn's River Falls features a unique, terraced structure that makes it ideal for climbing. If ever you've ever dreamed of scaling a waterfall, this is the place to do it.
Dunn's River Falls is not the only area with a waterfall worth visiting here. The Blue Hole, a series of jungle pools connected by falls, is a more secluded attraction that is steadily growing in popularity. The area is great for a swim or as a place to beat the crowds, at least for now. For a more serene alternative to either of these two major attractions, check out Turtle River Falls and Gardens, home to gentler waters and plenty of hammocks.
Ocho Rios' natural beauty stretches far beyond its wondrous waterfalls, however. When planning your excursions, keep an eye out for names such as Dolphin Cove and Green Grotto Caves. Of course, classic activities such as tubing, snorkeling, and simply hitting the beach are still more great ways to enjoy the natural splendor Ocho Rios has to offer.
Music and Culture
Throughout its history, Ocho Rios has had more than its fair share of excitement. From pirates such as Henry Morgan to more modern legends like the great Bob Marley, dozens of famous individuals have left their legacies in the area – legacies that you can visit today. Only a quick drive away from Ocho Rios, Nine Mile village is famous as the birthplace of Bob Marley. Tours here will take you through town to see museums and other sites from the reggae wailer's life, as well as his mausoleum.
Another famous birthplace awaits you closer to town: GoldenEye. The one-time home and writing retreat of James Bond creator Ian Fleming, GoldenEye now serves as a resort and hotel. While the hotel has expanded upon the original grounds significantly, you do have the opportunity to stay in Fleming's actual residence, should you be willing to shell out the extra cash. Nearby stands Firefly, the Jamaican retreat of Fleming's friend and playwright Sir Noel Coward. This residence stands today as a museum that offers both fascinating history and stellar views of the island coastline.
Food and Additional Lodging
While cruise ships and resorts get most of the press, it is possible to visit Jamaica on a budget as well. With costs in the low to midrange area, hotels such as the Blue House Boutique Bed & Breakfast, Kaz Kreol Beach Resort, and Mystic Ridge Resort still offer great amenities such as pools and included breakfast. Be sure to check out these options, especially if you want to save some money for excursions or dining experiences.
Speaking of dining, Ocho Rios hosts everything from full-service restaurants to food stands and beach bars. Be aware that prices range accordingly. If you're looking for a taste of the Caribbean, you can't beat Ms. T's Kitchen ($$-$$$). Home to brightly colored decor, jerk chicken, and other local recipes (vegan and vegetarian options available), Miss T's is the epitome of Jamaican dining. Christopher's ($$-$$$) is another great option in this vein.
Those looking for something less expensive shouldn't fret just yet. Plenty of cheaper ($) Jamaican options exist as well, such as Scotchie's, Mom's, and Ocho Rios Village Jerk Center. Each offers scrumptious seafood, fantastic jerk barbecue, and favorites such as goat curry, and will allow you to take a break from your vacation and live like a local. While Caribbean cuisine is king here, international options are available as well. This selection includes Italian options, American-style fast food, and a surprising number of Indian restaurants.
Unsurprisingly, there are a number of options available when it comes to booze. While most resorts offer their own bars and drink service, Ocho Rios has plenty to offer you, too, from Usain Bolt's Tracks and Records, a bar celebrating Jamaican sports and entertainment, to Bamboo Blu, a full service beach bar where you can relax and soak in the surrounding paradise. At the end of the day, there's no better place to kick back.
Header photo by neufal54 on Pixabay