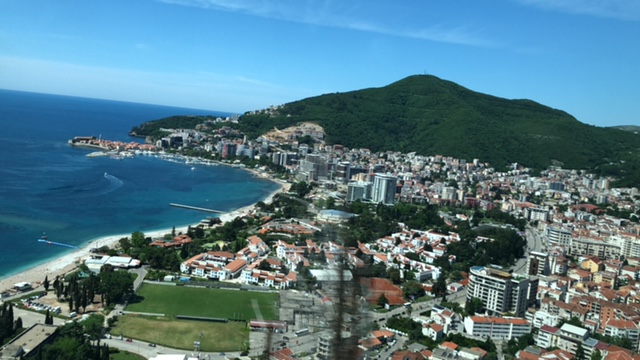 Nestled on the turquoise waters of the Adriatic Sea, Budva entices travelers with its sandy-pebble beaches, ancient history, and vibrant nightlife. As the epicentre of the Budva Riviera, the seaport town treats visitors to lively bars, beach clubs, seafood restaurants, and medieval architecture.
For decades, Budva has drawn celebrities to its shores for dreamy Adriatic vacations. A-listers like Brad Pitt, Angelina Jolie, Michael Douglas, Catherine Zeta-Jones, Adriana Lima, David Beckham, and Novak Djokovic chose Budva as their beach getaway.
During our Balkan trip, we spent nearly one week swimming, sunbathing, and melting our troubles away. Just driving to Budva is an unbelievable experience as you drive down twisting roads along the mountainside. Once you reach the Adriatic coastline, its natural beauty mesmerizes you every second. Budva easily ranks among my top European beach destinations for an unforgettable vacation.
Slovenska Plaža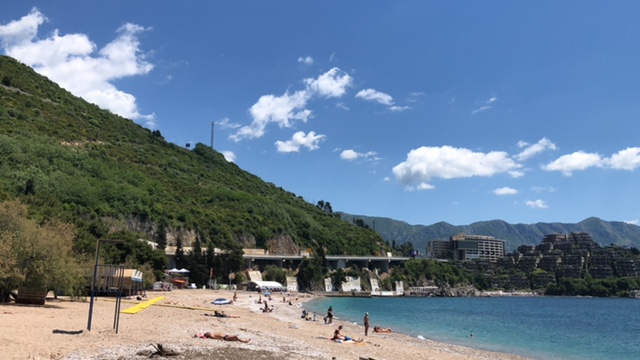 Start your beach vacation lounging on the fine pebbles of Slovenska Plaža that exfoliate your skin. Step into the crystal-clear Adriatic waters and sink into the soft sands while gazing at the adjacent black mountains. During high season, rent umbrellas and chairs for a lazy day listening to the crashing waves. As you cool off in the turquoise sea, enjoy the distant views of Sveti Nikola Island just offshore. Although the weather may be a little cooler, I recommend Slovenska Plaža in May or September to avoid large crowds.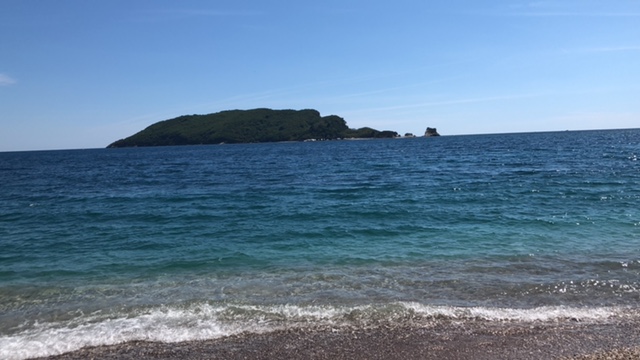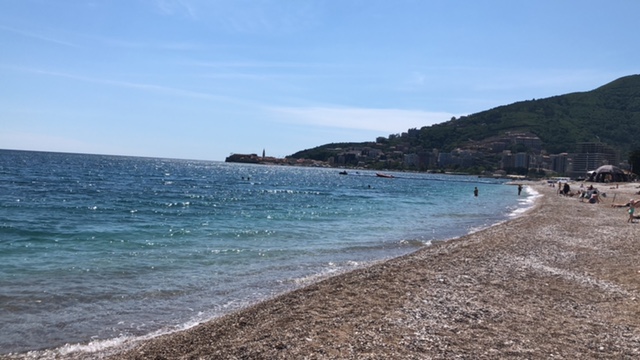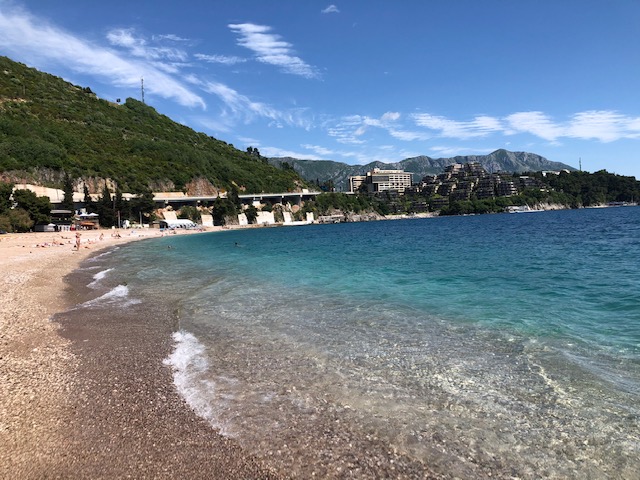 Mogren Beach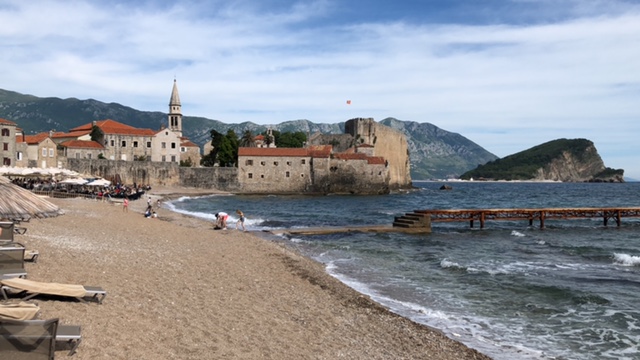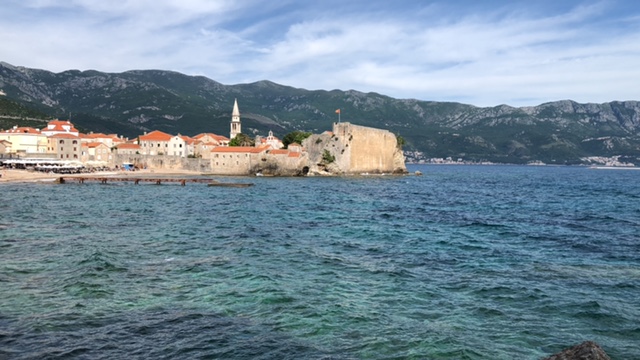 With scenic cliffside views and sandy shores, Mogren Beach is my favorite Budva beach. Walking to Mogren Beach is an adventure as you hike against rocky cliffs, through caves, and along wooden bridges. The rocky promontory presents majestic views of Statua Ballerina, Saint Ivan Church, and Citadela Fortress.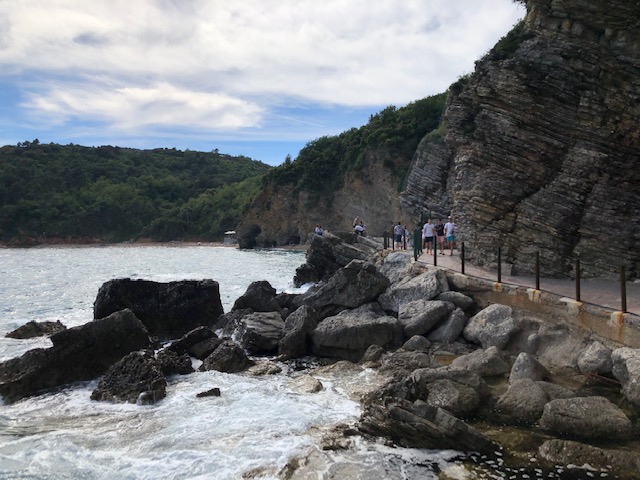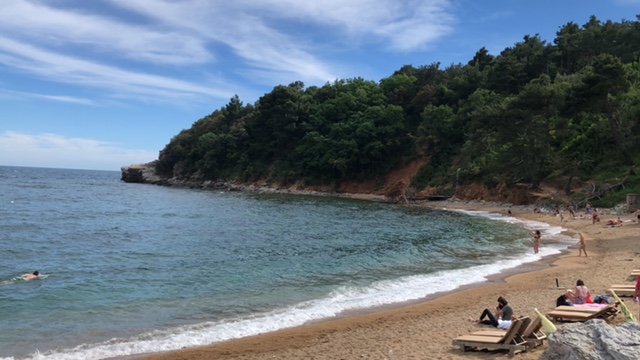 High cliffs surround the sheltered beach, and dreamy waters offer a magical swimming spot near Budva Old Town. Waterfront bars and cafés serve refreshing beverages while you enjoy seaside vistas. If you're feeling adventurous, grab your hiking shoes to climb the craggy cliffs or wander through the forest.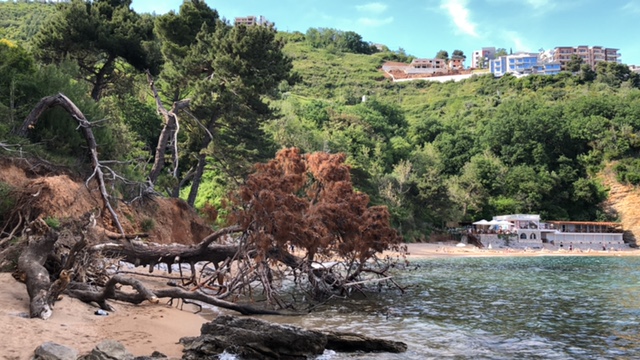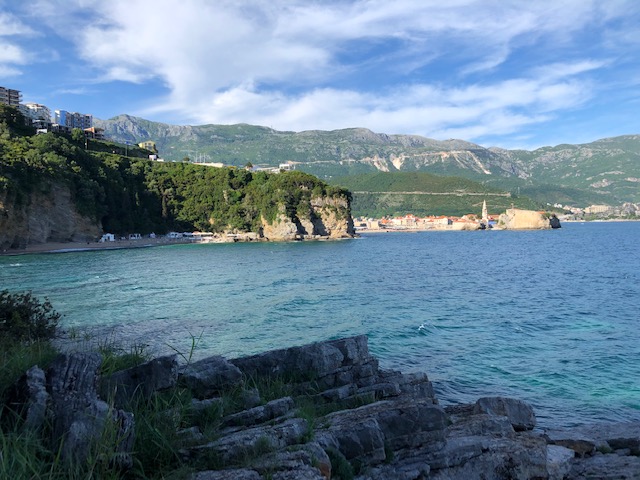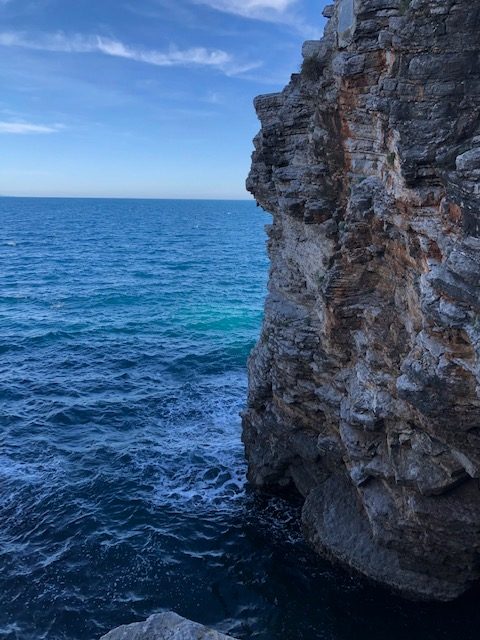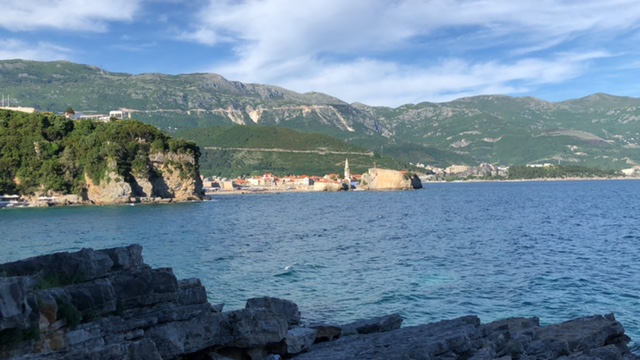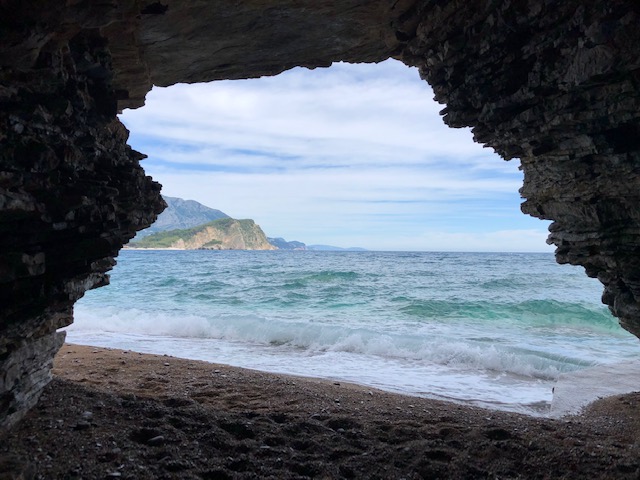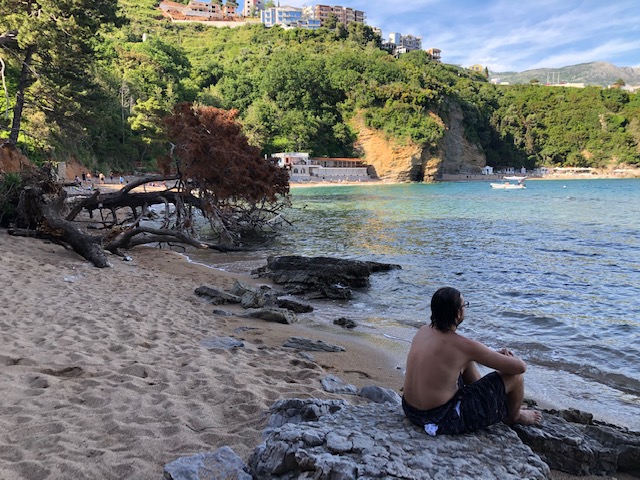 Budva Old Town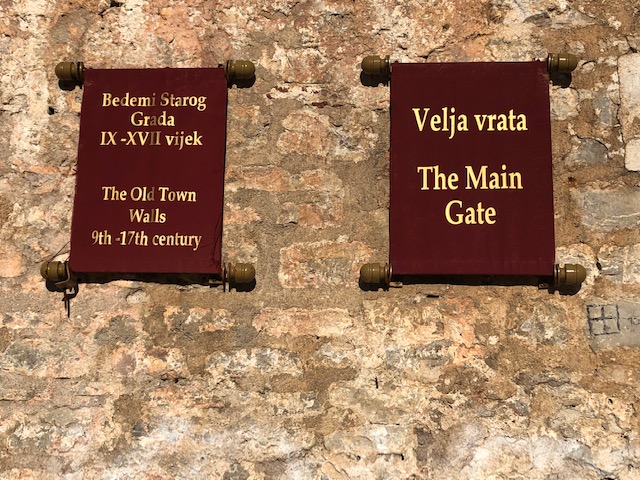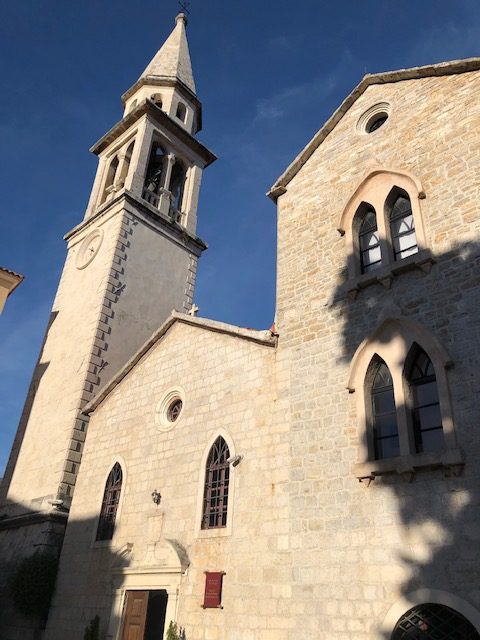 Budva Old Town has a 2,500-year history and enchants visitors with its cobblestone streets and narrow corridors. Crumbling medieval walls surround beautiful churches and fortresses that overlook the Adriatic Sea. The moment you step through The Main Gate, it feels like you've transported hundreds of years back in time. Venetians controlled the walled city from the 15th to late 18th century, and remnants of the Venetian Republic remain visible.
The stone buildings present a time capsule of how the medieval inhabitants of Budva went about their daily lives. Climb atop the Citadela Fortress and admire spectacular views of red-roof buildings, sparkling waters, and limestone mountains. Beautiful frescoes and murals adorn the walls of the preserved Saint Ivan and Holy Trinity Churches. Many other architectural marvels now operate as souvenir shops, cafés, restaurants, and museums.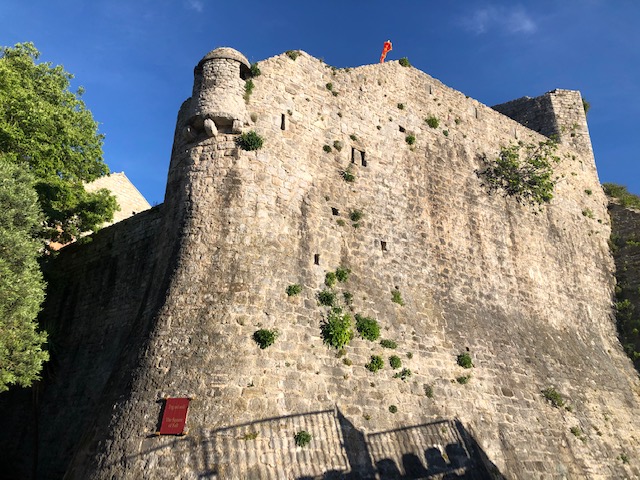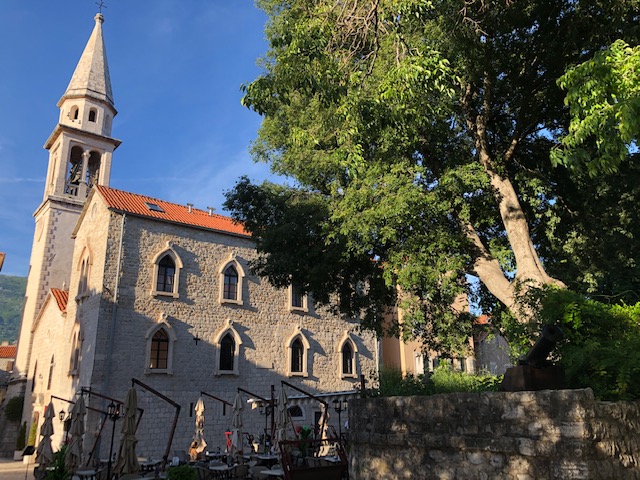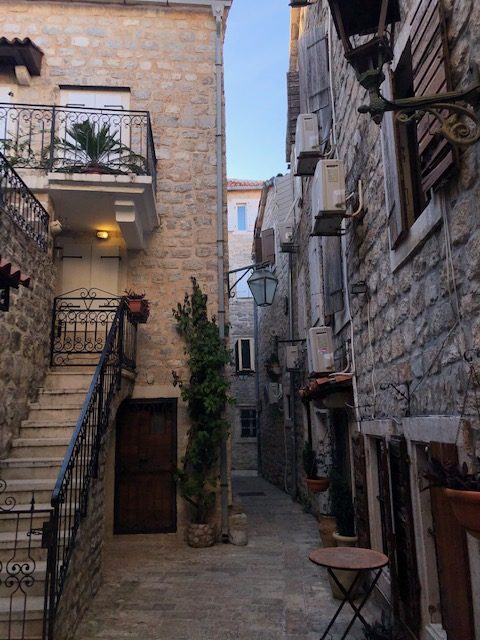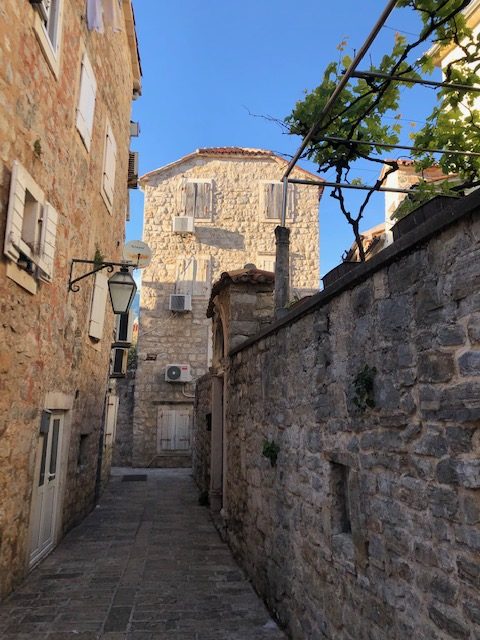 Dukley Marina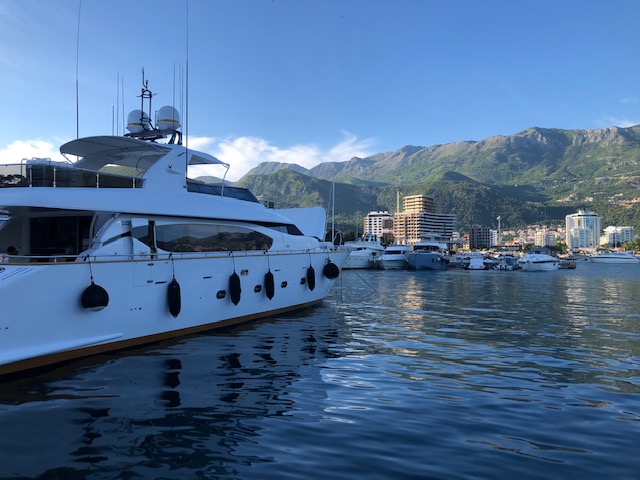 Nestled beside Budva Old Town, Dukley Marina hosts yachts and fishing boats docked on the Adriatic coast. Luxurious hotels, resorts, and residences sit beside the boardwalk and exude extravagance. Spot fishermen hauling fresh catches into the harbor and find the fanciest seafood restaurants Budva has to offer. Trees provide shade as you walk along the waterfront beside vessels bobbing in the marina. With its splendid charm and upscale atmosphere, it's no wonder dozens of celebrities have paraded around the Budva Riviera.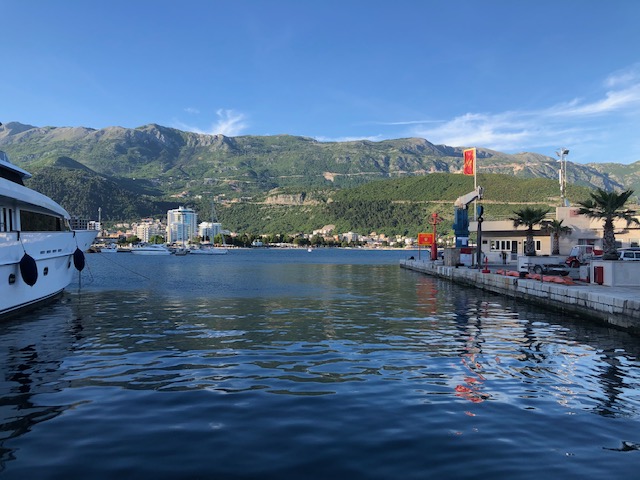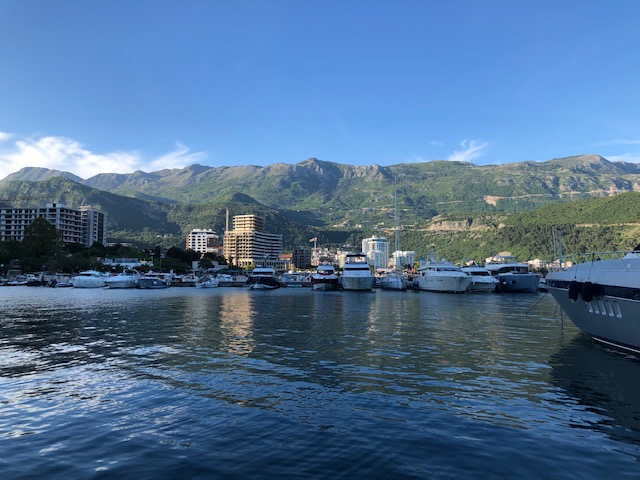 Sveti Stefan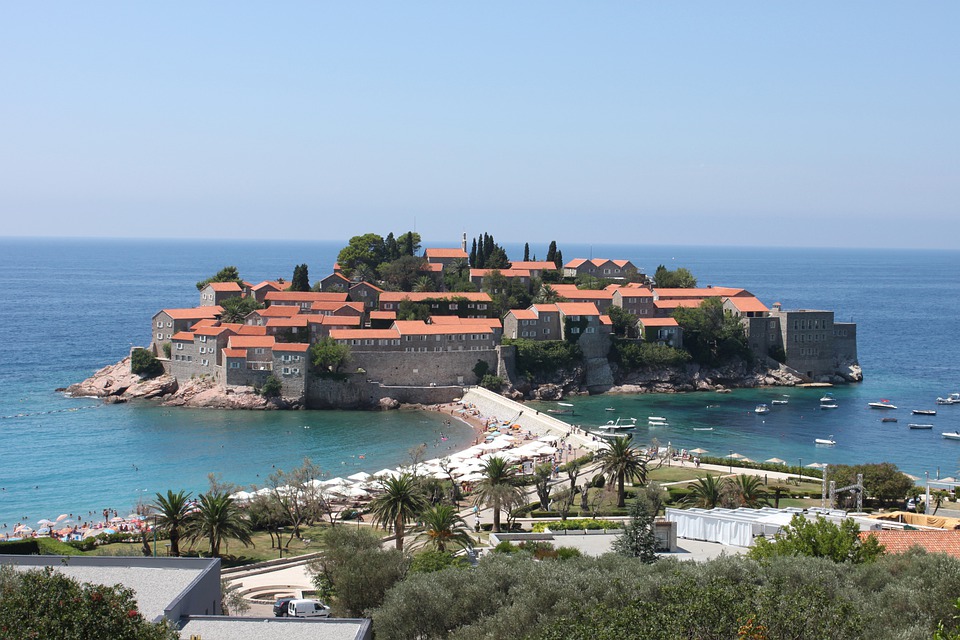 Just a 10-minute drive from Budva, Sveti Stefan remains the most symbolic image of Montenegro tourism. Situated on a small islet, Sveti Stefan gained fame as a high-profile resort and casino under the 20th century Yugoslav Communists. Celebrities and elites from around the world like Marilyn Monroe, Sophia Loren, Orson Welles, and Elizabeth Taylor visited the lavish resort.
Upon the break-up of Yugoslavia, the resort fell into disarray. However, Aman Resorts purchased the property in 2007, and Sveti Stefan recaptured the world's attention as a beachgoer's paradise. Pink sand beaches stretch around the property, and opulent suites make Sveti Stefan a magical couple's retreat.
While the island is reserved for guests only, the beaches along the mainland are open to the public. Save at least one beach day for this iconic destination for the complete experience traveling the Montenegrin coast. From Budva, buses leave around every 20-30 minutes for Sveti Stefan at an affordable rate.