With two of America's famous national parks, Wyoming is renowned for its natural beauty and epic wildlife. But embark on a road trip around this glorious state, and you'll be blown away by its unbelievable diversity. After spending nearly two weeks in Wyoming, it currently ranks as my favorite state of my home country.
The wide-open spaces, stunning vistas, and just befuddling landscapes opened my eyes to the riches of the American West. Drive around Wyoming for just a few hours, and you can travel from sagebrush deserts to snow-capped peaks. And venture a little further to find Badlands, pristine forests, and alpine lakes.
Wyoming has endless scenic wonders, and it's easily one of the best places to discover the wild west. Here are my top 5 places to visit in Wyoming for an unforgettable vacation.
1. Yellowstone National Park
As the world's first national park, Yellowstone sets the standard for preserved natural beauty and rich wildlife. And when you're driving around this enormous patch of Wyoming, Montana, and Idaho, you feel how special this place is. From its geothermal wonders to roaming bison, spending a few days at Yellowstone National Park is a magical experience.
Grand Loop Road is the primary thoroughfare that transports you 140 miles around the park. Stop by Old Faithful for a heart-racing spectacle or wander Upper Geyser Basin to engorge your senses of these bubbling springs. Grand Prismatic Spring is America's largest hot spring, and its piercing colors entice nature photographers. And the boardwalk around Grand Prismatic Spring reveals crystal-clear pools and steamy water flowing into Firehole River.
The Grand Canyon of the Yellowstone leaves you speechless for its gushing waterfalls and rhyolite canyon walls. There are hiking trails around the canyon that help you get that breathtaking panorama of the 308 ft Lower Falls and 109 ft Upper Falls.
Hayden and Lamar Valleys are the top destinations for wildlife enthusiasts to appreciate the 'American Serengeti.' Park your car beside the road to watch for bison, elk, grizzly bears, eagles, wolves, and much more. Just be cautious if bison cross the road and DO NOT approach these majestic animals.
One of the most underrated things to do in Yellowstone National Park is hanging by Yellowstone Lake. At 7,733 feet above sea level, it's the continent's largest high-altitude lake. But a black-sand beach was the last thing I expected to find at Yellowstone. The water may be frigid but walking down the shoreline was surreal. And you may see bison hanging in the grassy area above the black-sand shores.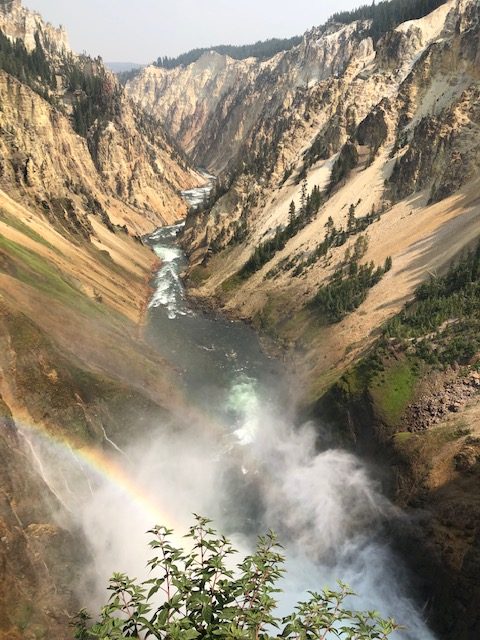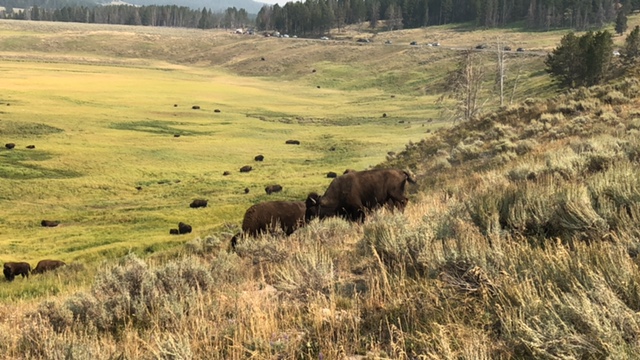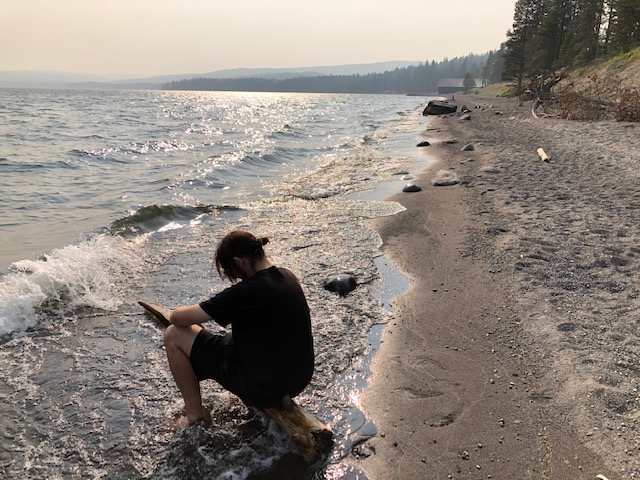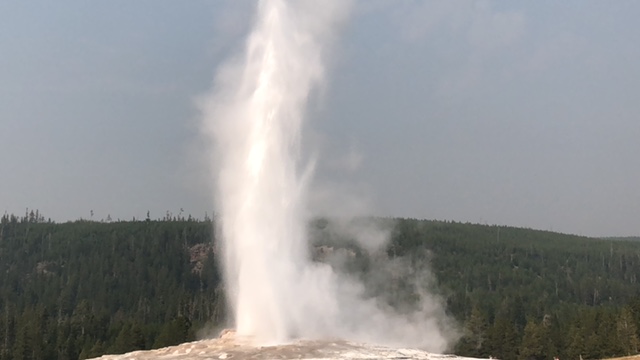 2. Wind River Range
The Wind River Mountains are a stunning range stretching around 80 miles, and they don't get nearly enough credit. Many of Wyoming's tallest peaks reside here, including the mammoth Gannett Peak at 13,804 feet. And the verdant forests, glacial lakes, and alpine meadows surrounding the granite peaks are a nature lover's paradise.
This rugged piece of the Bridger Wilderness is an adventurer's playground with 600 miles of hiking trails. Scenic mountain vistas dot the horizon, and you sometimes won't spot a soul for miles. If you're looking to unplug and connect with nature, the Wind River Range will enlighten your soul.
Just 77 miles southeast of Jackson, the small western town of Pinedale is the best launching pad to explore the Wind River Range. Backcountry expeditions to over 2,000 crystal-clear lakes, immense glaciers, and glacial-carved valleys will be at your doorstep.
For something closer to Pinedale, sink your toes in the golden shores of Freemont Lake for a secluded day at Sandy Beach. After hanging at this Wyoming hidden gem, drive the 32-mile Skyline Drive Loop for heart-racing vistas of granite peaks and alpine lakes.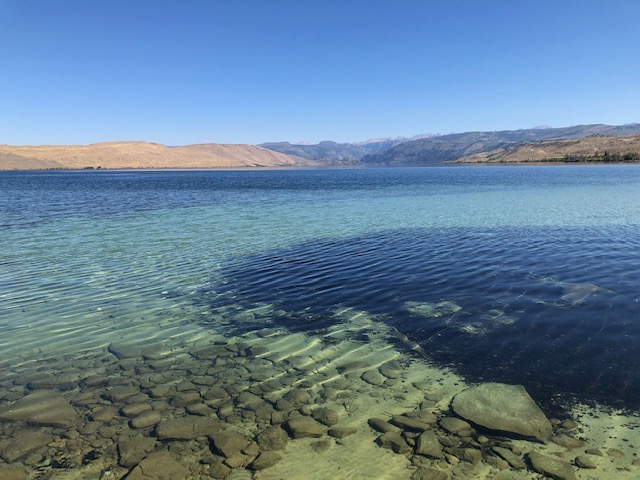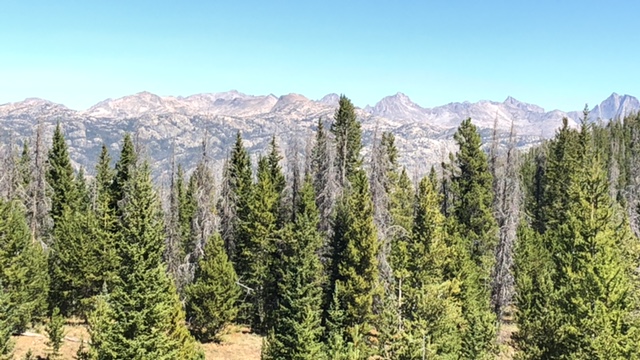 3. Grand Teton National Park
Wyoming's other beloved national park, Grand Teton may be America's most picturesque mountain range. Just gaze upwards at the 13,776 ft Grand Teton Peak, and you appreciate the beauty of the landscape. Lush forests, peaceful streams, glacial lakes, and alpine meadows surround the celestial peaks with hiking and camping adventures at every turn.
With the mountains sparkling on its surface, Jenny Lake is popular for boating and kayaking excursions. Although it requires a trek through the woodlands, Bradley and Taggart Lakes offer more solitude. And don't miss the breathtaking vistas of the boats docked beneath snow-capped peaks of Jackson Lake.
Schwabacher Landing rests beside the rich waters of the Snake River and opens your eyes to wildlife. Oxbow Bend is a bird watcher's paradise, and bison roam at the grassy Antelope Flats. And for a glimpse into the lives of past homesteaders, venture down Mormon Row to snap photos of the preserved barns from the late 1800s.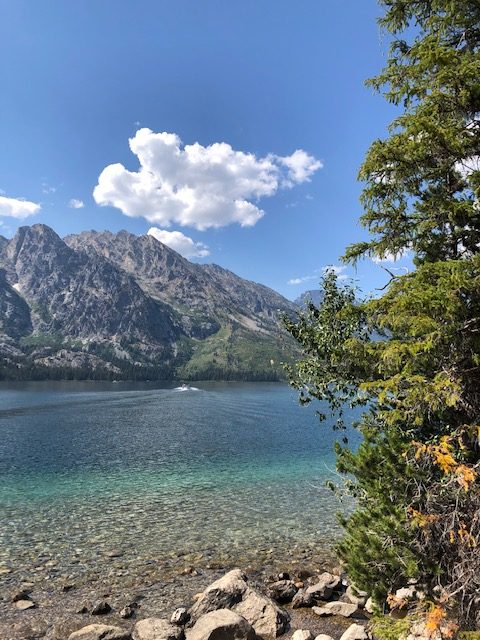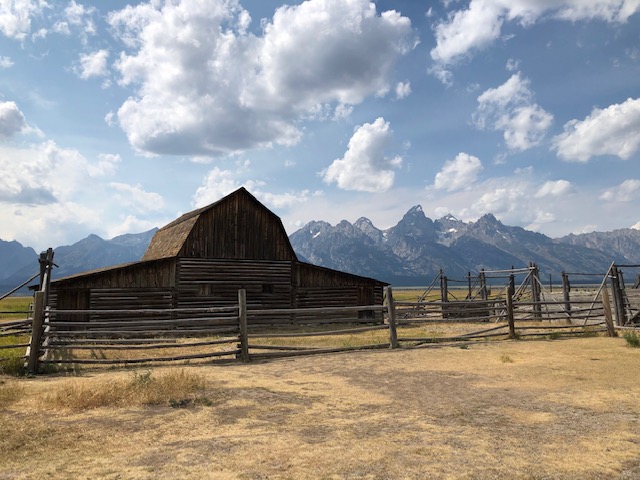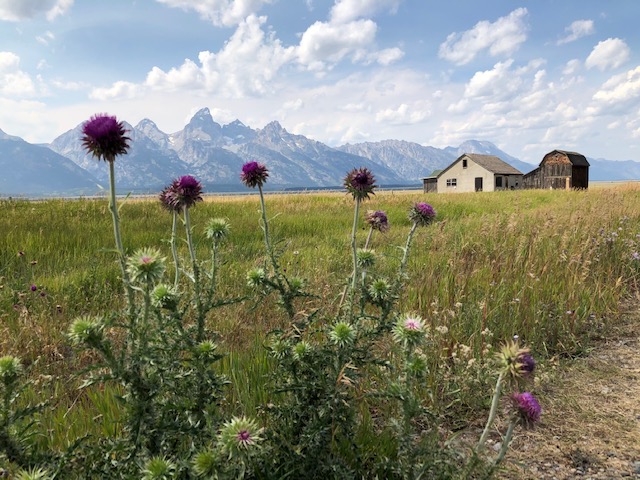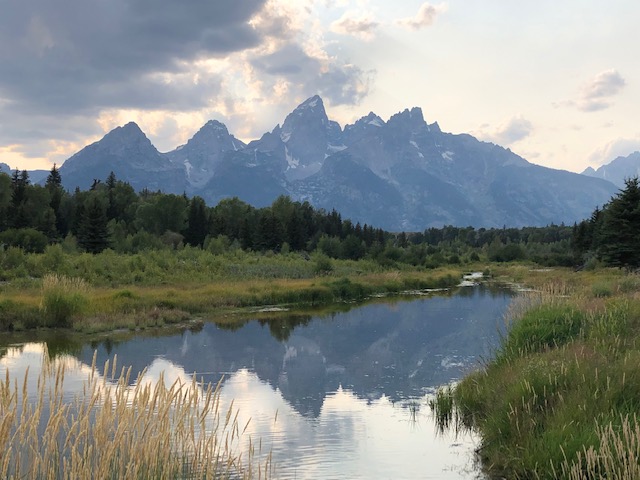 4. Wind River Canyon
No trip to Wyoming is complete without a drive on the Wind River Canyon Scenic Byway. With the Wind River cutting through the canyon, the sheer walls rise upwards of 2,500 feet above you. The ancient Precambrian cliffs date back billions of years and leave you speechless on the twisting roadway. As you admire the craggy, multi-colored cliffs, notice the old train tracks carved into the canyon.
If you have a few days here, whitewater rafting through the Wind River Canyon is among the most epic things to do in Wyoming. With its rugged walls and falling boulders, the Wind River Canyon presents breathtaking scenery for your whitewater rafting excursion. And the roaring water's class 3 rapids are an exhilarating thrill ride for adrenaline junkies.
Part of the Wind River Canyon resides on the Wind River Reservation, and the 100% Native American-owned Wind River Canyon Whitewater & Fly Fishing has exclusive access to these waters. The outfitter offers exciting whitewater trips and guided fly-fishing excursions in a way that preserves the pristine environment.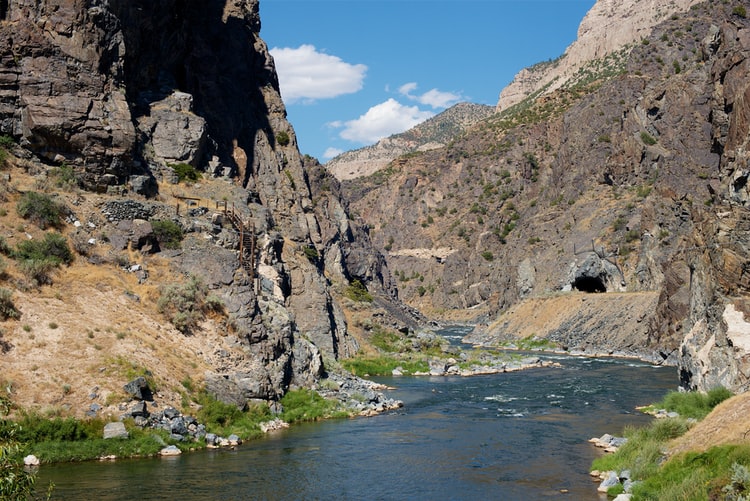 5. Hot Springs State Park
You don't have to venture to Yellowstone to spot bison in Wyoming. Located in the town of Thermopolis, Hot Springs State Park hosts the state herd. Drive around the bison range to find the grazing herd and enjoy the lack of crowds when photographing these beautiful creatures. Just be cautious when the herd decides to cross the one-way roads together.
Hot Springs State Park also earns praise for its revitalizing mineral springs that feed the local Bath House. It won't cost a penny to take a dip, and you'll come out feeling brand new. After drying off, walk around the park to smell the intense sulfur of the natural springs. Cross the Swinging Bridge for dramatic photos of the steamy water cascading off the multi-hued terraces.