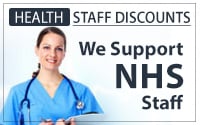 England is a riveting country with fascinating cities like London, Manchester, Birmingham, and Liverpool, but it's also a fantastic place to escape the urban noise. The English countryside attracts all sorts of holidaymakers seeking sparkling lakes, sandy beaches, rolling hills, moorlands, limestone cliffs, and other unbelievable natural scenery.
Travelers in search of serenity will find some of the most peaceful surroundings just a short drive or train ride away. Far from the big city, you'll waltz into quaint villages each with their own distinct character.
Exploring the different regions and various national parks let you discover a whole other side of this beautiful country. Kick start your vacation and check out six of the most breathtaking places to visit in the English countryside!
1. Peak District National Park
Hikers will be in heaven in this magnificent stretch of landscapes on the doorstep of Manchester. Dense forests, tranquil rivers, rocky limestone dales, and quaint villages make Peak District one of England's most popular destinations for nature enthusiasts.
The central location of the park makes it easy to access from the majority of the country. Visitors can hike or cycle from the rugged limestone of White Peak to the brightly colored moorlands of Dark Peak.
Best Villages to Visit in the Peak District
Ashford-in-the-Water
Highlighted by the beautiful Sheepwash Bridge, Ashford-in-the-Water is decorated with charming old stone houses, medieval churches, and located near the picturesque Monsal Dale.
Castleton
Walkers and cyclists make a beeline for this High Peak district village that is situated adjacent to Hope Valley and engulfed by rolling hills and limestone gorges.
Hayfield
Situated in the valley of the River Sett, Hayfield is a delightful base to explore Kinder Scout, the highest point in the Peak District.
2. Lake District National Park
Nestled in the northwest corner of England, Lake District National Park is the premier destination in the country for climbing craggy cliffs and gazing at picturesque lakes. Scenic hiking trails and bridleways cross spectacular landscapes carved by millions of years of glacial erosion.
Lake Windermere is one of dozens of ribbon lakes that has captivated visitors for decades. Summer days are spent enjoying calming boat rides or serene kayaking excursions along the shimmering waters.
Best Villages to Visit in the Lake District
Ambleside
Just a short jaunt from the iconic Windermere Lake, this scenic tourist hub hosts a bevy of activities such as hiking, steamboat cruises, museums, ancient ruins, and Victorian architecture.
Keswick
Poets and nature enthusiasts have been inspired for centuries by this market town's heavenly location between Skiddaw mountain and Derwentwater, a wide range of artistic shops, and charming pubs.
Dent
This cozy village stands out with its Viking roots, and a stroll into the surrounding countryside takes you to storied Dales Way footpath and England's highest railway station.
3. The Cotswolds
Roughly two hours outside of London, the Cotswolds are home to some of England's most delightful villages. The sweeping green hills and lovely gardens create a wonderful atmosphere to relax.
The Cotswolds are not short on history and outside of the fairy-tale like villages, you will find extravagant landmarks such as Sudeley Castle & Gardens and Blenheim Palace.
If you are up for one of the most fulfilling hikes in England, the Cotswold Way stretches across the captivating countryside filled with beautiful valleys, temperate grasslands, and medieval market towns.
Best Villages to Visit in the Cotswolds
Bourton-on-the-Water
Often nicknamed the 'Venice of the Cotswolds,' the atmospheric village leaves visitors spellbound with its gorgeous bridges, medieval stone houses, delightful shops, and jovial tea rooms.
Chipping Campden
The market town was famous for being the epicenter of the country's wool trade during the Middle Ages but is now home to numerous architectural landmarks that have been preserved for centuries.
Painswick
Painswick Known as the 'Queen of the Cotswolds' for its preserved mellow stone architecture and surrounding hills, Painswick is an ideal base for countryside walks and bird watching.
4. Cornwall
For beach lovers looking for the ultimate sandy escape in England, Cornwall is the place to be. The southwestern tip of the country is a haven for seaside activities including surfing, swimming, and sailing. On a sunny day, sprawl out underneath the English sun and relax on the white sand shores of the rugged coastline.
For more stunning views of the enchanting waters off the peninsula, hike to the top of the cliffs for mesmerizing imagery of the charming town and its harbour.
Best Villages to Visit in Cornwall
Fowey
Situated at the mouth of the River Fowey, this seaside village is known for scenic boat trips, rugged coastline hiking trails, elegant shops, and its bustling harbor.
St Ives
With its sandy shores, crystalline waters, vibrant arts scene, and lively harbor, St Ives has attracted beachgoers to its picturesque location for centuries.
Sennen
Although lacking the amenities of other Cornish villages, Sennen makes up for it tenfold with its epic scenery of white-sand beaches, turquoise waters, and dramatic cliffs.
5. Yorkshire Dales
Venturing back towards northern England, the Yorkshire Dales boast some of the country's most diverse landscapes. Around its charming stone villages, the natural scenery enthralls hikers and cyclists with its scenic valleys and wide-stretching moors of every shade of green.
The endless paths will whisk you away to serene waterfalls, stone-laden walls, colorful flowers in bloom, and remarkable limestone. Malham cove and Aysgarth Falls are two of the most breathtaking natural landmarks of the region.
Visitors can witness the underground beauty of the Yorkshire Dales by exploring its extensive cave system.
Best Villages to Visit in Yorkshire Dales
Kirkby Lonsdale
Adjacent to Yorkshire Dales National Park, this charming market town hosts an eclectic mix of shops, fabulous eateries, cozy cafés, and authentic stone cottages.
Hawes
Surrounded by miles of greenery, Hawes attracts a bevy of nature lovers with a tranquil river flowing through town, close to England's tallest one-drop waterfall, and being the country's highest town.
Appletreewick
Medieval homes line the single thoroughfare of this tiny hamlet, and its scenic hills attract a bevy of trekkers and cyclists to take in the spectacular views.
6. Northumberland National Park
Stretching along the Scottish border, Northumberland is England's northernmost national park and boasts miles of unspoiled wilderness. The area is one of England's least populated and an adventure here lets you intimately connect with nature.
History buffs can walk the boundaries of Hadrian's Wall, the defense barrier dating back to the time of the ancient Romans. Gaze at the rolling Cheviots that separate England and Scotland, see some of England's most beautiful waterfalls, or venture outdoors after dark for a magical night beneath the stars.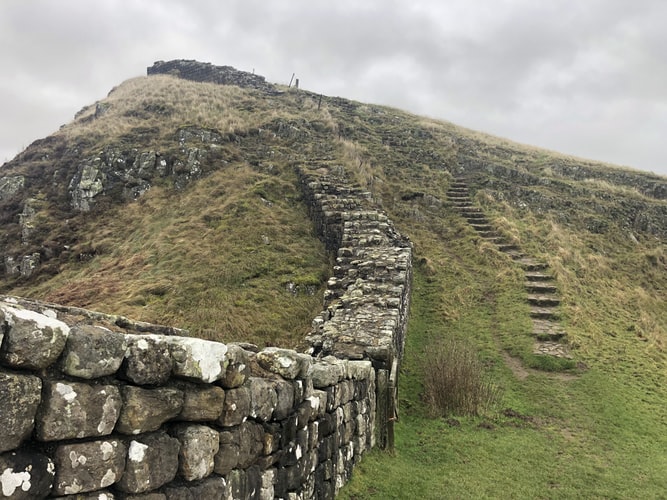 Best Villages to Visit in Northumberland
Bamburgh
The peaceful village is surrounded by sand dunes and beautiful beaches, and the legendary Bamburgh Castle was the seat of the Kings of Northumbria.
Corbridge
The town echoes Roman history, and its streets host one of the region's top assortments of independent shops.
Seahouses
Wander the harbor of this coastal village and check out a wide range of shops and restaurants before sailing to the Farne Islands, a bird watcher's paradise.
Long-Distance Walking Paths
England may not have towering snow-capped peaks dotting the landscape, but its countryside is filled with lengthy walking trails that let you explore every inch of the landscape.
Although there are dozens of trails across each region, here are three of the most storied long-distance routes.
Coast to Coast Walk – 182 miles (293 km)
This incredible voyage stretches from the Irish Sea to the North Sea across Northern England and explores the unspoiled landscape of three national parks: Lake District, Yorkshire Dales, and North York Moors.
South West Coast Path – 630 miles (1,014 km)
England's longest and most cherished walking trail takes you around the country's South West Peninsula, showcases the awe-inspiring Cornish scenery, and wanders into lots of coastal towns.
Pennine Way – 268 miles (431 km)
Famed for being one of England's most strenuous long-distance walking routes, this journey on the country's backbone courses through Peak District National Park, the South Pennines, Yorkshire Dales National Park, the North Pennines, Northumberland National Park, and briefly across the Scottish border.
Featured Image by MikesPhotos from Pixabay