Costa Rica is a land of waterfalls, but one of its most impressive cascades is the Nauyaca Waterfalls. The misty waterfalls plunge into the depths of a verdant canyon, and the sounds of the jungle echo around you. When you walk down the staircase to the falls, you enter a rainforest paradise that leaves you speechless.
A day trip to these scenic waterfalls is one of the top things in Costa Rica when you're exploring the Pacific coast. Just 10 km outside the chill beach town of Dominical, Nauyaca Waterfalls are one of Costa Rica's most accessible waterfalls.
During my first visit to Costa Rica, I had the chance to chase waterfalls and feast my eyes on this natural beauty. After my experience, I wanted to list 10 tips to help you plan your visit to Nauyaca Waterfalls. From pointers on getting there to advice while at the falls, here are my recommendations to prepare an unforgettable trip to one of Costa Rica's greatest natural wonders.
1. Save Money by Trekking to the Waterfalls
If you're fit enough for a strenuous trek, then strap on your hiking boots to reach the waterfalls. But make no mistake, this 5 km (3.12 mile) trek will kick your butt if you're not in shape. The trail is mostly a gravel road through dense jungle, but it is viciously steep at times. And whether it's the dry or wet season, the heat is brutal and makes water a necessity. For rainy season hikers, there can be mud patches that present slip hazards along the path.
If that doesn't faze you, then you'll save the biggest cost on your journey to Nauyaca Waterfalls. After asking various visitors, I heard different prices that included their tickets and roundtrip transportation. Tickets were around $30 per person depending on the package you purchased. But if you want to bring the cost down to only your entry tickets ($11 USD for foreigners & $7 USD for residents), bring your trekking shoes.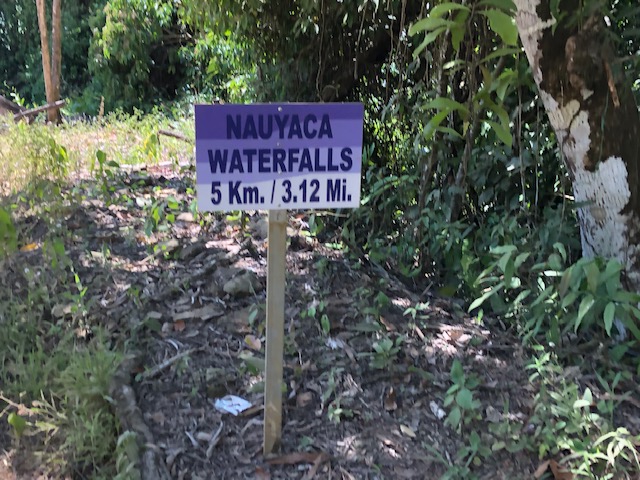 2. Tickets Can ONLY be Purchased at the Office
Don't make the hike to Nauyaca Waterfalls unprepared like me and assume tickets are purchased at the gate. When we arrived at the waterfall entry, a sign greeted us that tickets can only be purchased at the office. To show that you purchased your ticket, they place a wristband on you for the staff to see. Apparently, they charge you an extra fee for showing up with no wristband but that wasn't enforced during our visit.
You may be wondering how we managed to access the waterfalls without buying tickets at the office. We got extremely lucky that a staff member took cash from us on the property and provided wristbands. In case you bump into a worker in a foul mood, stick to buying tickets at the office.
The Nauyaca Waterfalls ticket office is located on Route 243 between the surf town of Dominical and San Isidro de El General. If you're driving or riding public transportation from Dominical, the office will be on your right. Just look for the enormous, colorful Nauyaca sign.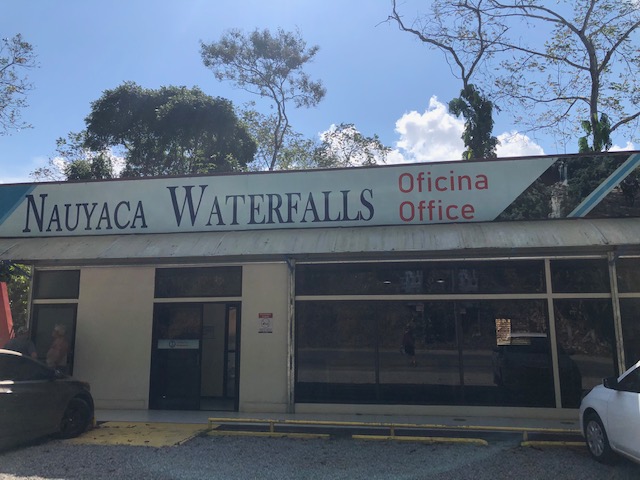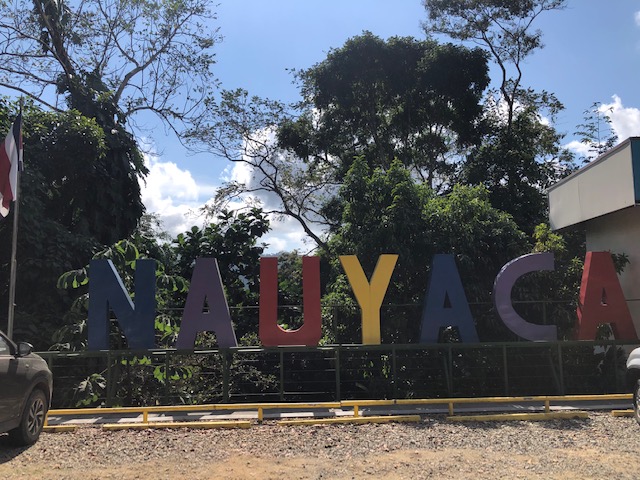 3. The Yellow Tractor Tire Signals the Path to Nauyaca Waterfalls
The easiest way to remember which direction points to the waterfalls is to look for the yellow tractor tire. It sits beside the highway on the right side if you're arriving from Dominical, but it doesn't say anything about Nauyaca Waterfalls.
The gravel road that goes toward the waterfalls can be tricky to spot if you're not paying attention. That's why I say look for the bright, yellow tractor tire to point you in the right direction. You'll also notice a bus stop before the tire, and that's where public transit riders hop office to begin the journey.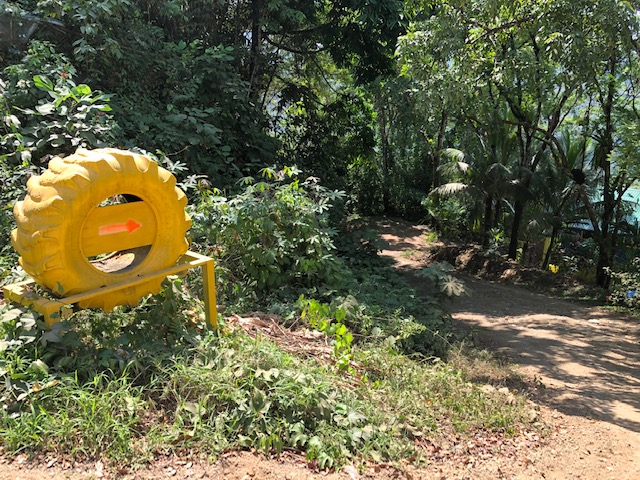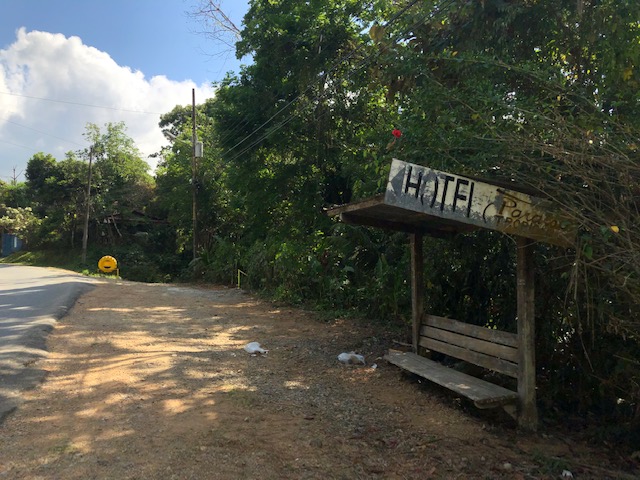 4. A 4×4 Vehicle is a Necessity
If you rented a vehicle in Costa Rica and want to skip part of the hike, there's a parking lot along the path. However, don't expect a standard car to withstand the steep, rocky terrain. And don't even try it, or else you will damage your vehicle.
The road to Nauyaca Waterfalls is treacherous year-round, but conditions are worse during the rainy season. Unless you have a 4×4 vehicle, stick to the bus for your ride.
The parking lot is roughly 4 km (2.5 miles) from the waterfall entrance. A benefit of leaving your vehicle in the parking lot is that you'll skip one of the path's steepest sections when hiking.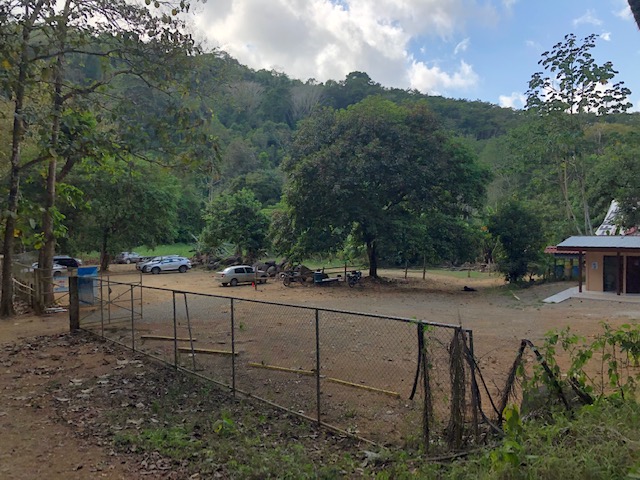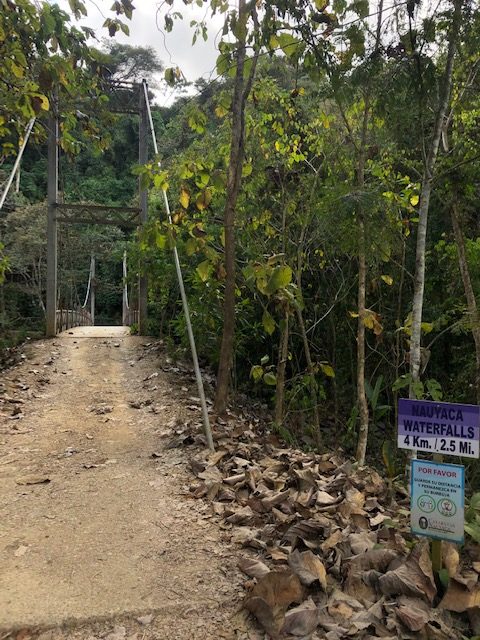 5. There's an Airbnb Even Closer Than the Parking Lot
If you have no vehicle and don't mind hiking, you have to utilize this next tip for Nauyaca Waterfalls. The Airbnb we stayed at to visit the waterfalls is the closest accommodation to Nauyaca (to my knowledge). Just past the swinging bridge, there's a gate to the property where the Airbnb is located. From this location, you're a hair under 2 miles from the waterfalls. 
Situated on a 4-hectare reserve, it's a magical spot to connect with Costa Rica's tropical forest. There's a garden on the property, swimming holes in the Rio Baru, and several dogs to keep you company. More on the dogs for my next tip.
The accommodation is suitable for a couple, family, or small group of friends searching for solitude. However, you should know that the internet is limited, and the owner speaks no English (fluent Spanish & German). But that didn't deter us from having a relaxed stay beside the river. If you're worried about hauling your stuff on the trail, you can arrange a ride with the owner from the tractor tire upon booking.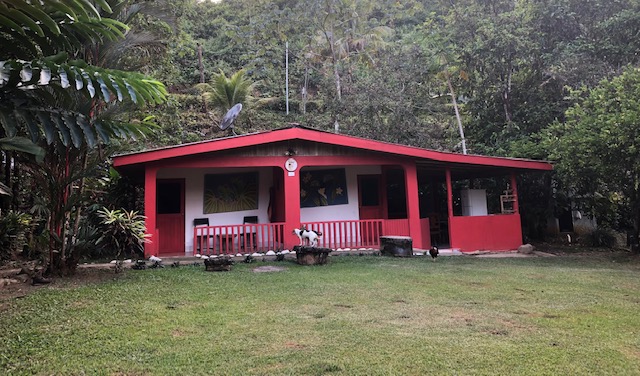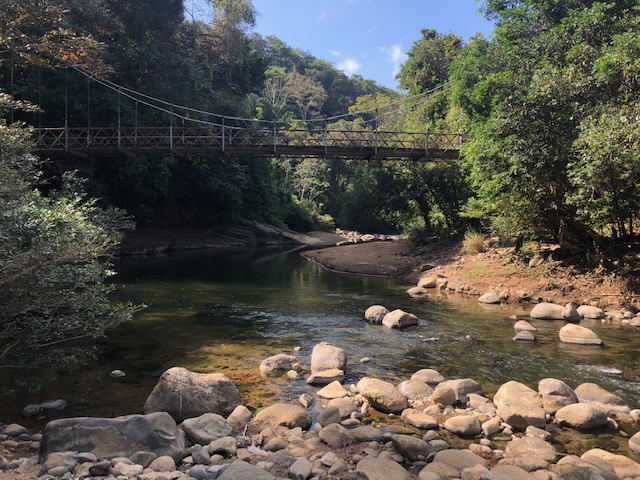 6. Pets Are NOT Allowed on the Nauyaca Waterfalls Property
As you'll notice in my pictures, we had a hiking guide on our trek to the waterfalls. One of the dogs from our Airbnb decided to walk with us the entire path to the entrance. It was loads of fun hiking with our four-legged friend, but we saw a sign at the gate saying pets were not allowed.
So, we took turns going onto the property and enjoying the plunging waterfalls inside the lush canyon. While we took turns waiting, it made for a fun greeting for other arriving visitors. But if you happen to be planning a solo visit with your pet, you'll be in for a disappointment.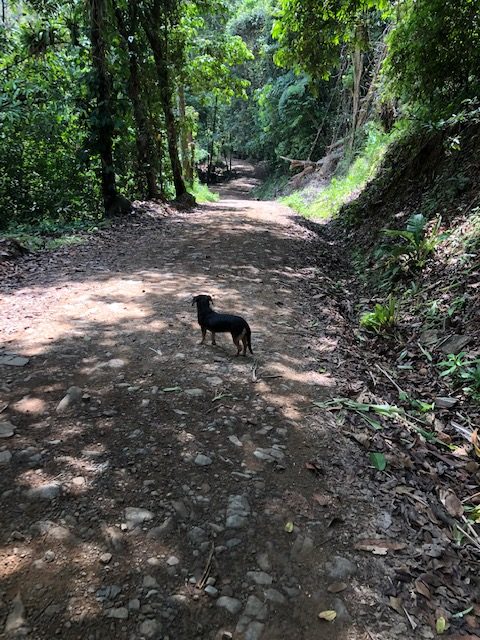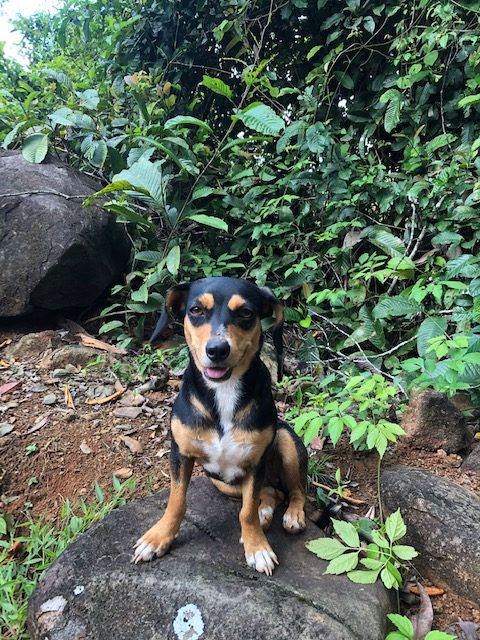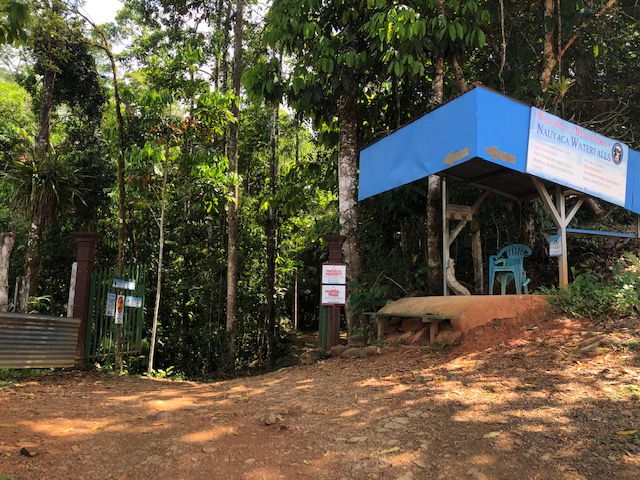 7. Only One Waterfall is Good for Swimming
After the final trek to the waterfalls, you'll notice a sign that details each majestic cascade. Waterfall #1 is 45 meters high (130 feet), not recommended for swimming & diving, and only for pictures. Waterfall #2 is 20 meters high (60 feet), recommended for swimming & diving, and taking pictures.
When you climb the rocky staircase to waterfall #1, you soon realize why you can't swim there. Although it's absolutely gorgeous, there are too many rocks for a swimming hole. I suggest scrambling on the rocks to find a comfortable spot for a picnic if you packed a lunch. You could still feel the misty waterfall and listen to the sounds of the rainforest.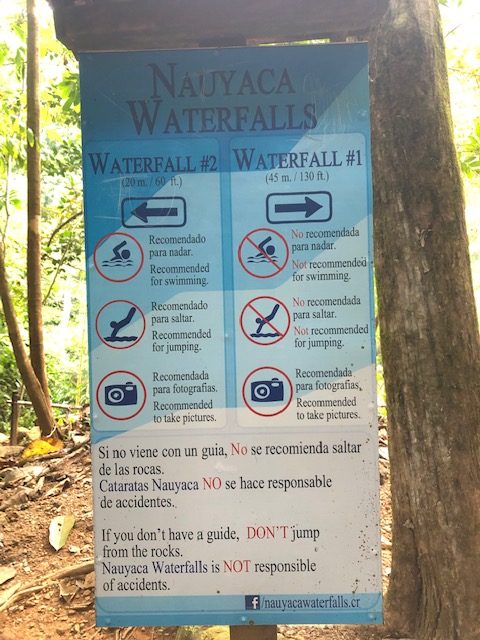 8. Use Extreme Caution if You're NOT a Good Swimmer
If you're determined to swim in waterfall #2, it is a surreal experience taking a dip beneath the cascade. However, I highly advise staying beside the rocks if you're not a good swimmer. And I repeat, you must be a GOOD swimmer.
The water in this swimming hole is extremely DEEP and dangerous for those who aren't strong swimmers. There are no lifeguards at the emerald pool, and you are warned to swim at your own risk. Please be careful and don't get yourself into a life-threatening predicament.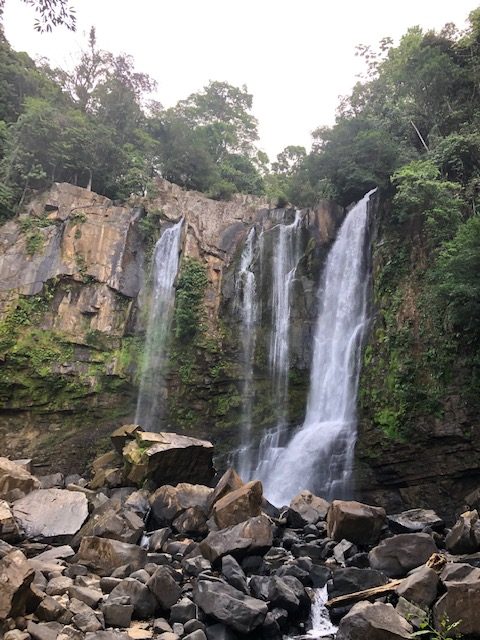 9. Do NOT Dive into the Water
Some people might call me a stick in the mud, but I would caution against diving into the swimming hole. There are jagged rocks around the pool, and you might not know where you'll find boulders beneath the surface.
Diving into a swimming hole you're unfamiliar with is a recipe for disaster if you choose the wrong spot. Although you'll see lots of folks doing tricks and diving from the rocky walls without a care, I advise against it. You'll still have lots of fun and won't put yourself in harm's way.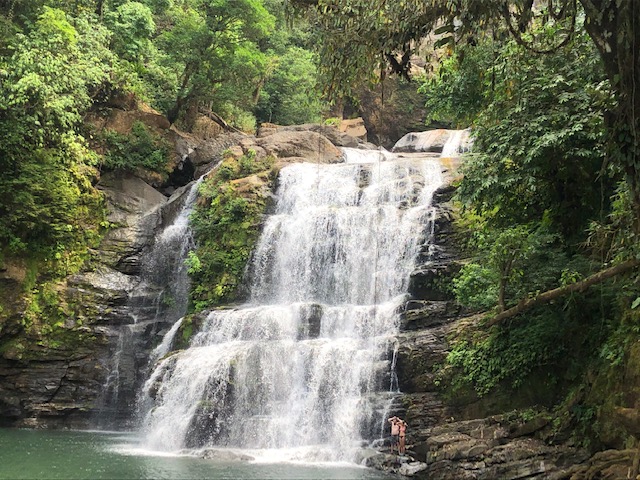 10. Watch for Wildlife on the Way Back
When you're hiking back to your car or the bus stop, keep your eyes peeled in the forest around you. The path ventures deep into the tropical rainforest, and you never know when a wildlife encounter is on the horizon. Colorful birds, playful monkeys, and lazy sloths are a handful of the sightings you may witness hiking to/from Nauyaca Waterfalls.
We were fortunate to meet a small group of Capuchin monkeys swinging in the trees on our hike back to the Airbnb. The intimidating sounds of howler monkeys also echoed throughout the forest.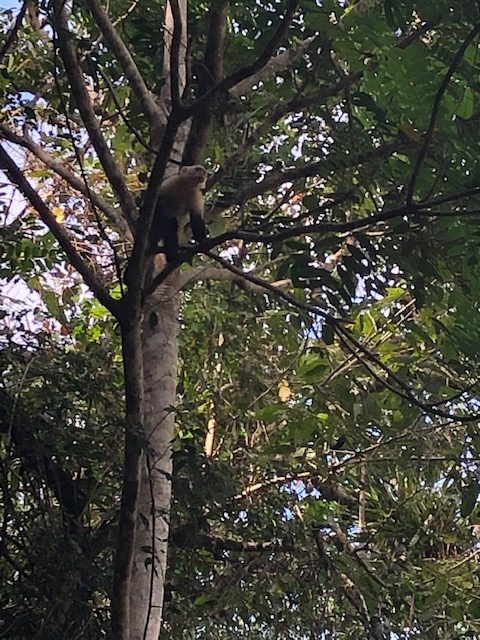 Those are my top 10 tips for your visit to Nauyaca Waterfalls. If I missed something or you have extra tips, please leave a comment below.