One of Bratislava's many nicknames is the "Little Big City," and with its hundreds of years of history and culture packed into such a small area, it's easy to see why. Every inch of the city carries a certain weight to it, and this weight elevates even the smallest action. An act as simple as walking down the street feels like true exploration, and – given that there are so many more things in Bratislava – any trip to the Little Big City will surely feel extremely rewarding.
Getting There
Not too far from the Austrian and Hungarian borders, Bratislava is well connected to the rest of Europe via plane and rail. Flights from Western European countries, such as the UK, can be had for under US$40 if you time your trip right, and train rides can be had for even cheaper. Be careful on budget airways, however, if you are backpacking or otherwise carry several bags with you, as you will likely have to pay extra fees. No matter your mode of transportation, you'll arrive at a terminal less than half an hour from the city center and be ready to start your adventure.
Seeing all of the top spots in Bratislava will likely take about two days – three if you include day trips to the surrounding area. As such, the Slovakian capital is a great candidate for Eurotrips, and itineraries centered around Central or Eastern Europe in particular. So, is Bratislava worth visiting? Of course it is!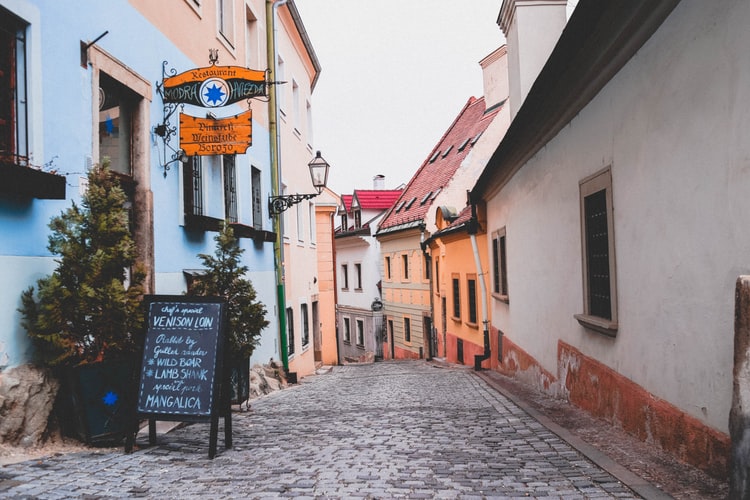 Old Town
Once in Bratislava, the first place you'll want to head is to the Old Town. Home to medieval charm and beautiful walking streets, the Old Town sits at the literal and cultural heart of the city. Around here, you'll find attractions such as the Old Town Hall, St. Martin's Cathedral, and Michael's Gate – the last remaining medieval gate in the city.
All of these buildings are worth exploring inside and out, and several allow you to climb high above the surrounding buildings to get great views of Old Town and the surrounding city. While strolling around, be sure to look for the unique statues scattered about, including the famous "Man at Work." These statues add a quirkiness to the quarter that is very much welcomed.
Next to Old Town, you'll find Bratislava Castle, an impressive looking structure that allows for even more impressive views. Fair warning – don't look for too much history within its walls. The castle has been renovated countless times and has relatively modern looking interiors. Still, if that juxtaposition is your thing, you may find the castle tour to be right up your alley.
More City Highlights
Outside of Old Town, there are several landmarks from the city's history well worth your time. First up is the bizarre and brutalist Most SNP, better known as the UFO bridge on account of the structure near its apex. Going up in this structure allows you quite possibly the best views the city has to offer; on clear days this view supposedly includes parts of Hungary and Austria!
The other must-see landmark, the Blue Church (or St. Elizabeth's Church), could not be more different. The entire exterior of the building is painted a beautiful sky blue, and the interior practically oozes charm. It's not every day in Slovakia that you see such bright cathedral interiors, so this one definitely deserves a spot in your itinerary. It's just one of many surprises that Bratislava holds in store for you.

Header photo by peter89ba on Pixabay