Famous as the land that inspired James Cameron's Avatar, Zhangjiajie in Hunan Province, China, truly lives up to its otherworldly reputation. With gorgeous views and unique experiences to spare, the mountainous region is the perfect destination for hikers and adventurers alike.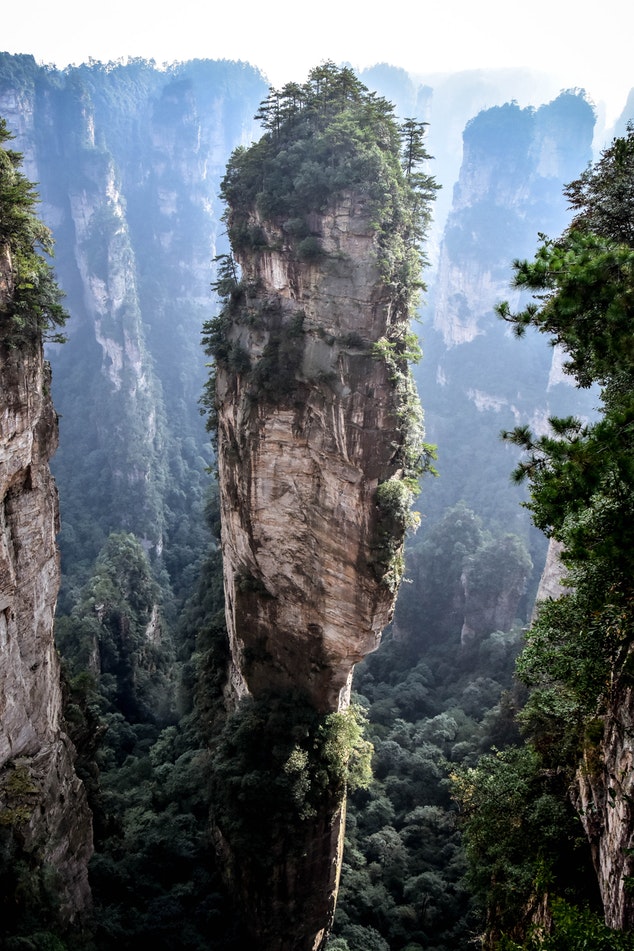 What To Know
There's no direct international route to Zhangjiajie, so flying through a major Chinese city like Shanghai or Beijing is your best bet. Trains are also available. Nestled in the middle of mountain country, Zhangjiajie can often be both cold and foggy, especially in the mornings. Pack accordingly. To make the most of your time here, start early in the morning and explore until mid-afternoon. Transportation tends to stop around sunset, so start heading toward an exit sooner rather than later if you aren't staying overnight. Most areas of the town and park are manageable thanks to English signs and menus, but don't be too surprised if many locals only speak Chinese. Travel expenses for the entire trip should be relatively low.

Hikes and Excursions

From the town center, there are two nearby attractions to explore, as well as the thrilling Zhangjiajie Glass Bridge a bit further out. Tianmen Mountain is easily accessible through the cable car located in the City Garden, worth it for the splendid views – or alternatively, mysterious trip through the morning fog. After riding the purported longest cable car in the world, you'll reach a relatively flat mountaintop home to gorgeous Chinese architecture and natural environments. Pathways wind throughout the interior and along the edge of the mountain, including glass skywalks that can be experienced for a small fee. When you're satisfied, head down a few escalators to Tianmen Cave, an impressive natural formation. From here, you'll take a bus down the winding road back to town (you can also complete the bus/cable car circuit in reverse).

While Tianmen Mountain is a day trip, Zhangjiajie National Forest Park can sustain several days of exploration on its own. After taking a bus from the town center to the park entrance, you'll have a multitude of options to choose from. Paved walking paths allow you to explore the lush forest floor, while a cable car and a unique glass elevator (both require additional fees) allow access to the trails above that feature jaw-dropping views of the natural formations. All paths are clearly marked, and a complimentary bus service allows further access into the depths of the park.

Before you call it a night, get tickets to see the Tianmen Fox Fairy Show, based on a local fairy tale and turned into an epic that transcends language.

Food and Lodging

Lodging ranging from hostels to four-star hotels are available in town, and some lodging is also available in the national park itself for more intrepid travelers. Trail snacks, water, and meals can be purchased in select areas of the park, and while most options consist of local Chinese cuisine, a few western staples (ex. McDonald's) are available as well. Tianmen Mountain also features a restaurant that serves various snacks and traditional dishes (soup, wontons, etc.). If you have any dietary restrictions, it's best to bring your own snacks to keep you going throughout the day.

Header photo by Joshua Sortino on Unsplash