Located deep in the Bolivian Andes, Salar de Uyuni (or Salar de Tunupa, as it is sometimes known) is the kind of place is unlike any on Earth. You'd be forgiven for stepping out onto the one of the world's largest salt flat and thinking that you have found yourself on some distant planet. Of course, it's this very quality that makes Salar de Uyuni so appealing to world travelers. Even better – over the years many different ways of experiencing the salt flats have emerged, each of them offering a unique take on this beautiful region. With that in mind, here are our top ten best things to do in Salar de Uyuni.
Spend the Night in a Salt Hotel
Salar de Uyuni's unique landscape makes construction using ordinary materials difficult, so some local businesses have instead used the salt itself to create structures. Hotels such as the Palacio de Sal feature walls and even furniture made out of salt, and are sure to provide a unique twist on the traditional hospitality experience.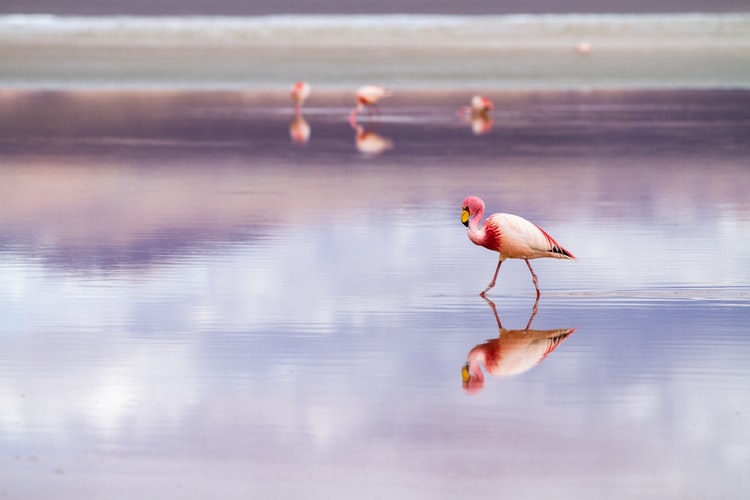 Frolic with Flamingos
Contrasting with the blinding white of Salar de Uyuni's salt flats, the pink flamingos of the flat's Laguna Colorada are a sight to behold. The unique red waters of the lake are an added bonus!
Venture to a Towering Volcano
Once a terror upon the land, the now dormant Mount Tunupa can itself be experienced in a plethora of ways. Take in its natural splendor from afar, or try your luck at climbing the mountain for breathtaking views of the area. Please note that the volcano should only be climbed as part of a tour or with experienced guides.

Book a Bike Tour
While the salt flats can be explored by car, or on foot, you're bound to get the most bang for your buck from a bike tour, which strikes a nice compromise between being able to chart your own adventure and seeing a good chunk of the landscape that lies before you.

Discover an Island in a Sea of Salt
In the midst of the salt flats, you'll find Isla Incahuasi, a mountainous land mass home to dozens of picturesque cacti. The land itself is formed on dead coral from a time when the region was underwater.
Visit a Mummy-filled Cavern
Located near Mount Tunupa, this cavern is home to the Coquesa Mummies, remnants of an ancient society that once dwelled in the region. If you sign up for a tour, you're bound to discover not just preserved remains, but preserved culture as well.
Seek Out Sol de la Manana
A mighty geyser located in the region, Sol de la Manana is another testament to the unique makeup of this alien landscape. Put aside the salt flats, and you'll find the geyser is a wonder that stands all on its own.

Explore an Unusual Cemetery
Salar de Uyuni is also home to man-made wonders, such as a burial ground of sorts known as the Train Cemetery. After mining trains in the area had served their purpose, many of them were brought here to rust under the hot Andean sun. Climb around and through them to see a different side of Salar de Uyuni – and Bolivian history.

Sleep Under the Stars
An enormous reflective expanse with little light pollution, Salar de Uyuni makes for the perfect stargazing destination. Be sure to take in the beautiful night sky when you have the chance.

Go on a Salty Shopping Spree
No adventure is complete without a souvenir, and you can find yours in several areas throughout the region. The town of Colchani is of particular note thanks to its handcrafted momentos, so stop by before you head back home.

Header photo by Indranil Roy on Unsplash