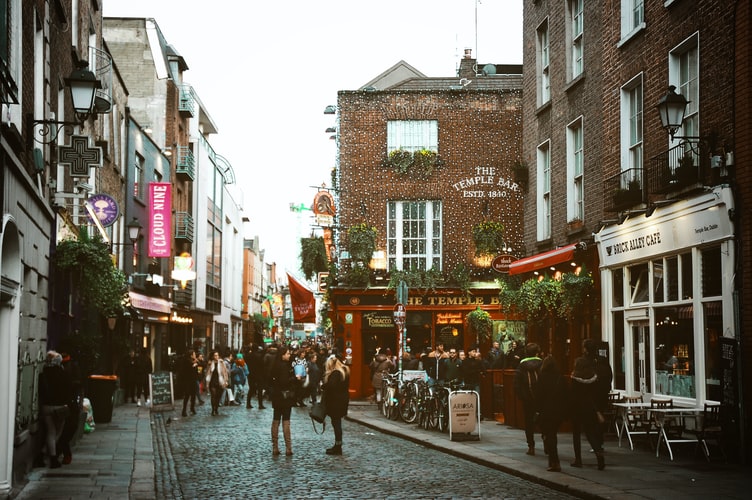 A stopover in the magnificent capital of Ireland! No way should you spend an evening in this bustling European city in an airport or inside a hotel. Get out and hit the streets for an evening of Irish fun! What to do? So little time!
If you are lucky enough to spend one majestic evening in Dublin, start out with these fantastic options for an unbelievable night before venturing back home. You will not regret it!
Visit the Guinness Storehouse
It might be the most touristy thing to do in Dublin, but it doesn't mean you should not visit the famous Guinness Storehouse at least once in your life. Get the rundown on the history behind this Irish masterpiece and have incredible fun on your way to the rooftop Gravity Bar.
At the end of your grand tour, you will get the ultimate experience of learning the proper way to pour a pint. Enjoy the refreshing flavors of the black stuff overlooking the heart of Dublin.
The best way to kickstart your Dublin adventure!
Stroll into an Irish Pub for Dinner & a Pint
So, your flight didn't land in time to make it to the Guinness Storehouse. Then what? If you're craving to get some food in your belly, then head over to authentic Irish Pub for a filling meal and a soothing pint. It's true what they say, the Guinness does taste better straight from the source.
You have plenty of options to choose from, but one of my personal recommendations is The Bankers Bar along the beautiful Trinity Street. Great service, delicious food, and a fantastic pint of Guinness made this traditional Irish Pub a pleasant welcoming to Dublin. Try the Celtic Burger, it is simply amazing!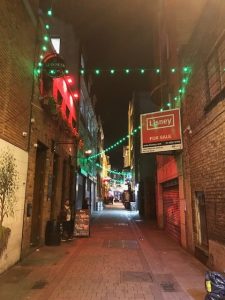 Listen to Traditional Irish Music
Don't be surprised to stumble upon one of Dublin's many traditional Irish music sessions. These spirited festivities sometimes happen in the blink of an eye, and everyone in the pub starts singing along with musicians. For a glimpse of Irish culture, scour the streets for the pubs known for live Irish music.
O'Donoghues is the perfect place to start your quest, and this vibrant joint in Merrion Row continues to welcome Dublin's most talented artists. Famous groups such as The Dubliners have entertained multiple generations of Dublin residents, and the atmosphere at O'Donoghues is unlike any other Dublin institution.
Other legendary Dublin venues to check out during your visit include Doheny & Nesbitts, The Cobblestone, and The Hairy Lemon. Whichever pub you decide to visit, expect a roaring good time featuring Dublin's best musicians.
Stand in Awe of Medieval Cathedrals
Even at nighttime, the cathedrals in Dublin are a magnificent sight to behold. Two churches you can easily walk to from the center of Dublin are Christ Church Cathedral and the awe-inspiring St. Patrick's Cathedral. You may not be able to see the splendid interior design at this hour, but the architectural gems are eerily beautiful at sunset or basking in the urban moonlight.
Dublin is rich with medieval history and the 12th century St Audoen's Church is one of the city's oldest landmarks. John's Lane Church is a short walk from Christ Church Cathedral, and this underrated Roman Catholic church has the highest steeple in Dublin.
Promenade Along the River Liffey
For enchanting views of Dublin, walking beside the River Liffey is a splendid location to see every hidden corner. The lights of the city shimmer along the river at night, and you can waltz right to many of the city's top attractions. Spanning along the river's north and south banks, the Dublin quays pass dozens of pubs, historical landmarks, and charming neighborhoods.
Walk across one of the river's many bridges with the most recognizable being the centuries-old Ha'penny Bridge. Just upstream, you'll find the Portland stone O'Connell Bridge that is wider than it is long. Saunter through the alleyways near the River Liffey to explore the cobblestone streets of the rowdy Temple Bar district.
Enjoy a Night of Theater
Ireland has always been a goldmine for literary prodigies, and the tradition is still alive thanks to Dublin's historic theaters. Many venues helped local talents sharpen their craft and dazzle visitors with inspirational performances.
The Abbey Theatre is a Dublin cultural icon noted for fostering the celebrated writers of the Irish Literary Revival. Irish playwrights such as Lady Gregory and William Butler Yeats laid the groundwork for the theater's triumphant success.
Olympia Theatre hosts world-renowned musicians and ranks among Dublin's top concert venues. Located in Dublin City Center, Gaiety Theatre treats Dubliners to musicals, opera, comedy shows, and traditional Irish dance performances.
Get to Know the Locals
Dublin is known as one of the friendliest and most welcoming cities in Europe. With an open mind and positive attitude, it's easy to waltz into a pub and have a pint with the locals.
Parading around Dublin's jubilant streets with no sense of direction, I stumbled upon a group of friends enjoying a few rounds of Guinness. After an intriguing conversation and two extra pints, I learned more about Irish slang than ever before. Discovering some of the local hangouts was another highlight of the evening that wouldn't have been possible meandering around Dublin alone.
One of the best things about traveling is getting to know others from different countries, and Dublin is a delightful place to make new friends on your adventures.