Ayutthaya, Thailand, is a UNESCO World Heritage city, with a fantastic history and some of the most beautiful temples and parks you could ever imagine. It is very close to Bangkok, but the whole experience is very different.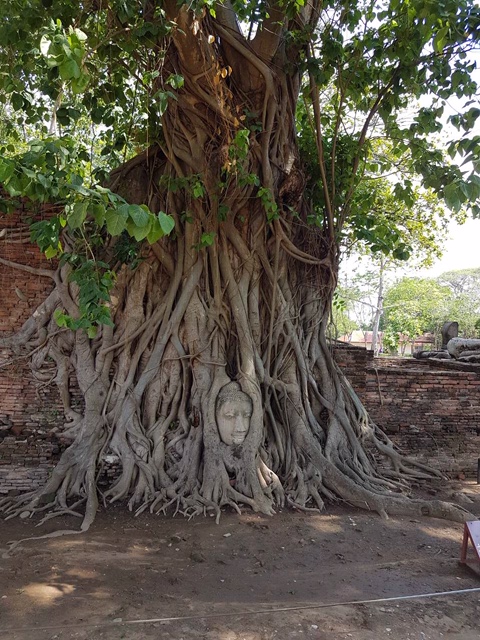 The city dates back to 1351, and today it is known as Venice of the East. In the past, it was described as the most beautiful city on the planet, but in 1767 the Burmese invaded Ayutthaya, and the town was almost burned to the ground.
The remains are glorious, majestic; and by far the best way to explore is by bicycle or even better, hire a tuk-tuk. Start your studying with a visit to Wat Phra Si Sanphet, the largest temple, then Royal Palace, next to it.
Continue your journey with short boat rides, to see Wat Phanan Choeng, home to one of the most famous Buddha statues. According to the legends, when the city was burning, the Buddha statue was crying.
When you get tired and need to regain your strength, you have to try some local food. It is under the influence of Chinese, Indian, Persian, Japanese, and European merchants, so the culinary delights are more diverse than other Thai cities. One dish that you must try: the giant river prawns. Grilled and served with Thai spicy seafood sauce, let's say it's love at first bite. Roti Sai Mai is your dessert for a day, which is basically colorful candy floss, made of fruits and leafy greens.
Seeing Wat Chaiwatthanaram, a Buddhist temple is on the must-see list. It is close to cheap, yet classy hotels, Krung Sri River or River View Place. You can also have a snack or a refreshing drink at these hotels.
Visit all the temples, plus museums can feel overwhelming. You can see everything in a day, in a few hours, to be more precise.
While the children might not find any of this archeological and historical sightseeing as exciting, all that could change with a visit to Million Toy Museum. It is a museum which houses toys from all over the world, showing the revolution of toy making in each society.
Boat Trips around Ayutthaya Island and Ancient Ayutthaya Food & History tour are a bit more dynamical ways to explore the city. You can rent a cruise to get back to Bangkok while looking at the stars and all the temples while leaving the ancient city behind.
Thailand is known for its beaches and picture-perfect nature. However, the whole country is far more than just swimming and tanning. The history, the culture, the tradition, they are quite astonishing, especially for Europeans and Americans. Visiting Ayutthaya and similar, smaller iconic places might not be the best idea in theory during the hot, humid, months. However, if you do decide to go on an adventure, you won't be sorry.