Straddling the border of Alberta and British Columbia, the Canadian Rockies are a picturesque stretch of rugged mountain landscapes and untamed wilderness. The national parks that encompass these vast mountain ranges have become popular destinations for tourists all over the globe.
From majestic lakes to cascading waterfalls, don't miss out on trekking across these four gorgeous national parks of the Great White North.
Banff National Park
The most popular national park in the country, Banff National Park is the tourism epicenter of the Canadian Rockies. Less than a two hour drive from the vibrant city of Calgary, the town of Banff is a gorgeous mountain town to base your travels in the Canadian Rockies.
The stunning Mount Norquay overlooks Banff and is fabulous for skiers. Some of the most jaw-dropping glacial lakes around the world can be found a short drive from Banff. The mesmerizing turquoise blue waters of Lake Louise and Moraine Lake surrounded by lush green forests and towering mountains will take your breath away.
The legendary Icefields Parkway begins in Banff National Park and this scenic drive will take you to more unbelievable lakes and adventurous Banff hiking trails. If you are exploring Banff with kids, make sure to visit Bow Lake and Peyto lake as two of the most spectacular sights you will find anywhere in the park.
Closer to Banff, more epic expeditions await including Johnston Canyon, the Banff Legacy Trail, and the underrated Lake Minnewanka.
Places to Stay in Banff National Park
With Banff being the most popular national park in the Canadian Rockies, you'll find a multitude of accommodations for all budgets. Whether you prefer upscale lakeside retreats or shared dorms, you have plenty of options to explore this alpine wonderland.
Luxury
Fairmont Chateau Lake Louise: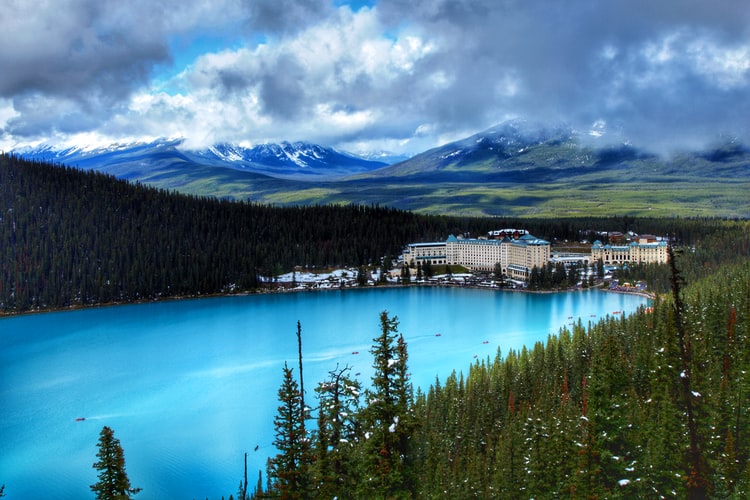 Offering guests fabulous views overlooking Lake Louise, accommodations in Banff National Park don't get any fancier than the Fairmont Chateau. Indulge with seasonally inspired culinary delights, let your stresses melt away at the spa, or take part in numerous activities such as hiking, horseback riding, kayaking, cross-country skiing, ice skating, and much more.
Moraine Lake Lodge:
Situated on the shores of Moraine Lake, my personal favorite lake in the Canadian Rockies, Moraine Lake Lodge provides the ultimate balance of adventure and luxury. Cabins and rooms are decorated with authentic log furniture, and you can cozy up by the enormous stone fireplace. With jaw-dropping views of the turquoise lake and the Valley of the Ten Peaks at your doorstep, it's Heaven on Earth for mountain lovers.
Mid-Range
Banff Rocky Mountain Resort:
Suites and condos at this resort provide you exceptional views of rugged peaks in your backyard and a complimentary shuttle to downtown Banff. Take a dip in the pool, play tennis, or have an outdoor barbecue while breathing in the crisp mountain air.
Budget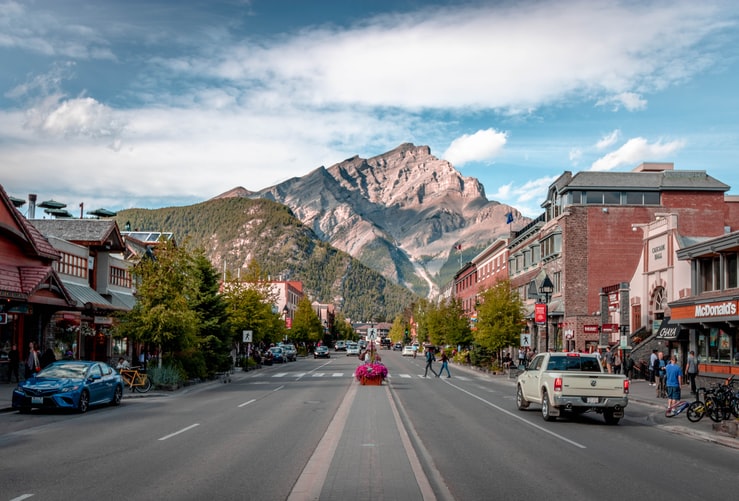 Samesun Banff:
The no-frills hostel is in Banff and offers comfy dorms rooms, an on-site bar, and tons of outdoor activities within easy reach.
Banff International Hostel:
Near downtown Banff, enjoy simple accommodations with on-site laundry and parking, free WiFi, and a fully equipped kitchen.
Jasper National Park
The wilder Jasper National Park is the largest park in the Canadian Rockies. You can drive into the park from Banff via the Icefields Parkway.
Behold some of the most fascinating scenery such as the Columbia Icefield, Glacier Skywalk, and Athabasca Falls. Along the spellbinding drive to the mountain town of Jasper, you'll pass cozy lodges, tranquil picnic areas, and amazing hiking trails.
The Icefields Parkway may end in Jasper, but the fun does not end there. The nearby Maligne Lake offers astonishing mountain and forest views. Images of Spirit Island in the middle of the lake look like an alpine fairy-tale. Don't forget to check out the enchanting Medicine lake en route to Maligne Lake.
There are tons of other wonderful activities in and around Jasper including Mount Edith Cavell, the Jasper SkyTram, and Jasper Dark Sky Preserve.
Places to Stay in Jasper National Park
A stay inside Jasper National Park places you in one of the most rugged sections of the Canadian Rockies. After an exhilarating day of hiking, kayaking, or skiing, kick up your feet and listen to the sounds of nature outside your room.
Luxury
Fairmont Jasper Park Lodge: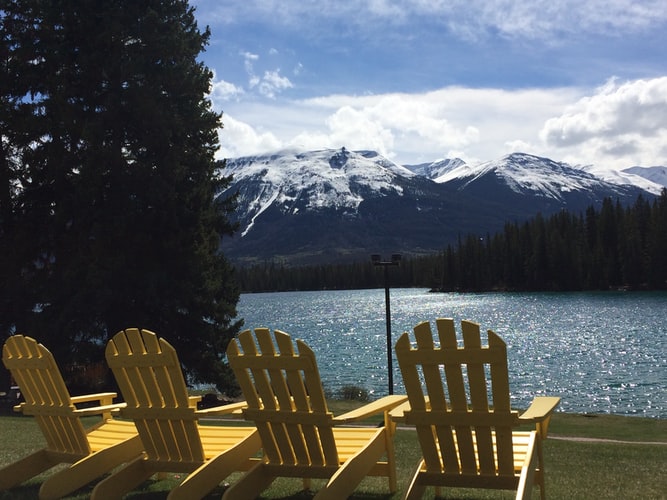 Families and couples will have a relaxing time at this extravagant resort offering spacious log cabins and lavish rooms. Golf in the middle of the Canadian Rockies, kayak on the crystalline waters of Lac Beauvert, or grab a meal at one of the nearby restaurants.
Pyramid Lake Resort:
Situated on the shores of Pyramid Lake, this elegant resort lets you stay inside chalet-style accommodations with incredible mountain views. The lakeside retreat has kayak and mountain bike rentals, upscale dining with seasonal flavors of Alberta, nearby hiking trails, an outdoor hot tub, and pet-friendly rooms.
Mid-Range
Mount Robson Inn:
Located in Jasper, Mount Robson Inn has a variety of rooms providing guests comfy beds, fridges, microwaves, breakfast, and is a quick walk from downtown.
Budget
Tonquin Inn:
Take part in lots of fun-filled activities such as hiking, canoeing, mountain biking, and whitewater rafting in cozy accommodations at affordable rates.
Jasper Downtown Hostel:
The hostel's convenient downtown location includes private rooms, dorm beds, a full kitchen, laundry facilities, and all the needed amenities for a relaxing stay.
Yoho National Park
Take the Trans-Canada Highway to explore one of British Columbia's wonders. Yoho National Park often lives in the shadows of its more famous national park brethren but has tons to offer nature lovers.
Takakkaw Falls is one of the tallest waterfalls in Canada and it plunges along the cliffside. The hauntingly beautiful Emerald Lake is a fantastic location to take a kayak on the water for enthralling mountain scenery.
Yoho National Park is also home to the most alluring gem in the Canadian Rockies. Lake O'Hara is an alpine heaven that can only be reached by a bus service or 11 km hike. Visitors of Lake O'Hara will fall in love with the unspoiled beauty of the lake surrounded by snow-capped mountains and radiant forests.
Places to Stay in Yoho National Park
Yoho National Park doesn't receive the fanfare as the parks on the other side of the Alberta-British Columbia border, but there are equally magical places to rest your head at night. Whether you enjoy the finer things in life or thrive in rustic environments, Yoho has plenty of options for you.
Luxury
Emerald Lake Lodge: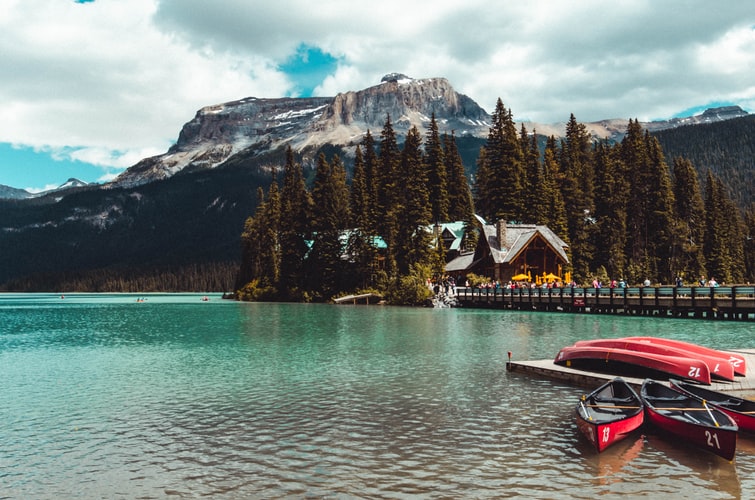 Situated beside Emerald Lake and surrounded by towering peaks, Emerald Lake Lodge treats guests to five-star comfort and unmatched customer service. Relax inside a stainless steel outdoor hot tub, experience a renowned wine program, snuggle up by the fireplace, and enjoy adventurous activities on your doorstep any time of year.
Cathedral Mountain Lodge:
Spend your nights inside sumptuous log cabins that enable you to escape reality without being far from the park's best activities. Listen to the sounds of nature on your private deck, soak in a hot tub, dine on organic dishes, and search for wildlife throughout your stay.
Mid-Range
Canadian Rockies Inn:
Located in Field, stay inside spacious king or two-bedroom suites with a stocked kitchen and on-site parking.
Budget
Whiskey Jack Hostel:
A short walk from Takakkaw Falls, Whiskey Jack Hostel lets budget travelers disconnect from the modern world and sit by the campfire with like-minded adventurers. The hostel only operates during the summer from June to September.
Fireweed Hostel:
Have a friendly stay in this hostel with flexible accommodations, a kitchen, laundry facilities, private rooms, dorm beds, and a wood-burning fireplace.
Kootenay National Park
Located south of Yoho in British Columbia, Kootenay National Park is much less developed compared to other national parks in the Rockies. Although the park has been ravaged by past forest fires, there are several phenomenal sights to see.
Sinclair Canyon offers a majestic entrance to the park on Hwy 93. Stare at the soaring mountain ranges of Kootenay Valley viewpoint, visit the colorful mineral spring pools of The Paint Pots, and stand along the continental divide as you explore the astonishing landscapes.
A hidden jewel of Kootenay is the rest stop along Hwy 93 near Numa Falls where you can bask in the sunlight as the Kootenay River peacefully flows downstream beside you.
Truly immerse yourself in the natural beauty of the Canadian Rockies by hiking one of the many backcountry trails deep into the wilderness.
Places to Stay in Kootenay National Park
Although there aren't nearly as many accommodations in Kootenay National Park, you'll still have the chance for an intimate stay inside the Canadian Rockies. Rustic cabins, cozy hotels, and all-inclusive lodges are all conveniently located near the park to guarantee you a memorable trip.
Luxury
Shadow Lake Lodge:
Deep within the Banff backcountry, escape the tourist crowds and explore remote hiking trails while resting your legs inside private cabins with washing facilities and soothing showers. The staff prepares delicious meals with seasonal ingredients and treats you to a fabulous selection of beer and wine.
Sunshine Mountain Lodge:
Pamper yourself in this fabulous base location with picturesque views of the rugged mountain peaks. Adjacent to Banff Sunshine Village, the lodge has a unique setting of being the only accommodation situated within the mountains of Banff National Park, and you won't be far from Kootenay.
Mid-Range
Kootenay Park Lodge:
The only accommodation inside the park, Kootenay Park Lodge lets you stay inside heritage cabins that have retained their authenticity for decades. Enjoy your time in the backcountry with homemade meals, warm hospitality, and an abundance of wildlife roaming the property.
Budget
Misty River Lodge:
The family-owned lodge sits in the Columbia Valley just outside the park in the town of Radium Hot Springs. Cook your meals in a fully-stocked kitchen and enjoy the hillside setting on the patio deck.
Castle Mountain Wilderness Hostel:
Castle Mountain is the closest hostel to Kootenay National Park, and this skier's paradise provides guests a kitchen, bicycle storage, wood-burning fireplace, on-site parking, and laundry facilities.
Save Money on Your Trip
The four national parks of the Canadian Rocky Mountain Parks World Heritage Site are a gateway to a nature lover's paradise. An adventure into this rugged wilderness entices intrepid travelers with its snow-capped peaks, turquoise lakes, evergreen forests, limestone caves, and incredible wildlife.
You could spend a lifetime wandering the Canadian backcountry, but daily fees into the national parks make an extended vacation more difficult for some. Luckily, the Discovery Pass provided by Parks Canada enables you to save money on your adventure.
Valid for one year after purchase, the pass gives you unlimited access to all Canadian national parks. Yearly passes are $69.19 for adults, $59.17 for senior citizens, and $139.40 for families upwards of seven people in one vehicle (prices in CAD).
Consider making this worthwhile investment when you first step foot into one of the awe-inspiring national parks of the Canadian Rockies.