Nestled among the highest peaks in Europe, Zermatt, Switzerland, is a haven for anyone who's ever dreamed of skiing through incredible natural scenery. That being said, this small Swiss village is so much more than it first appears. Between jaw-dropping excursions, indulgent spas, and even fine dining, there's enough things to do in Zermatt that you'll want to spend not just the whole winter there, but the whole year.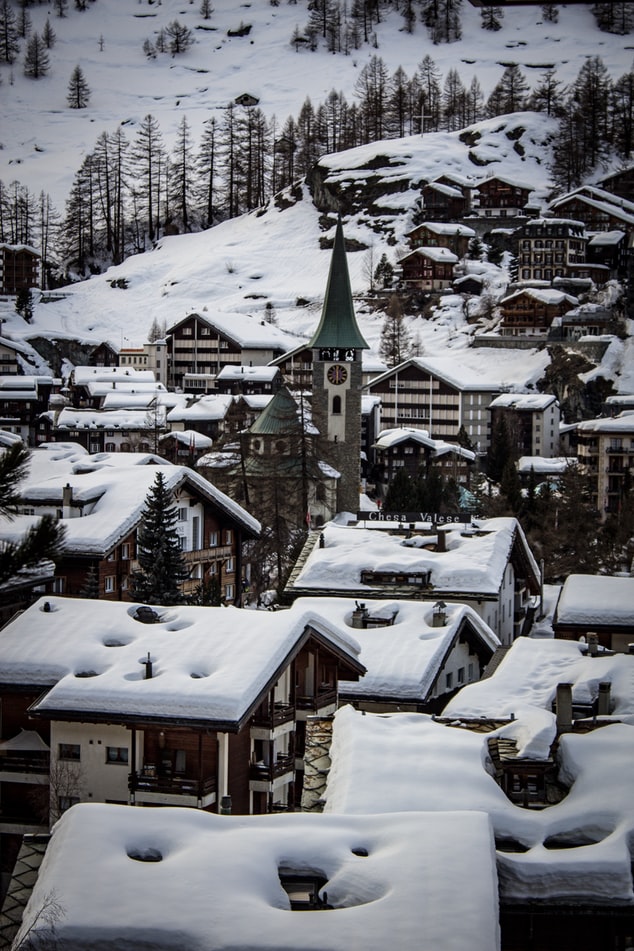 Getting There
Like most of Switzerland, Zermatt is well-connected and fairly easy to access. Given its location, however, the methods of getting there are somewhat limited. By far the easiest and best way to reach the village is by taking the train known as the Glacier Express. You can catch the train at Tasch, the closest village to Zermatt, or board directly at either Zurich-Kloten or Geneva-Cointrin airports. Note that both of these trains will require you to transfer.
Zermatt itself is car-free, though it can also be accessed by taxi if you wish. Taxis will be your only available road option, as personal cars are not allowed up to the village. Helicopters can also be chartered if you prefer unimpeded views the stunning mountain scenery on your way into town.
Hitting the Slopes
The ski slopes that surround Zermatt are wonderful not only for their storybook setting, but also for their accessibility. There are slopes for just about everyone here, from absolute beginners to the most experienced of experts. Even better – most slopes are available year round.
Once you're ready to go, head to one of the many chair lifts and gondolas around town to head to your chosen destination. A good rule of thumb to follow is the higher up you go, the more difficult the slopes will be, so stay relatively close to town if you have children with you. Speaking of kids, the best slopes for them can be found at Wolli Beginner's Park and Zermatters Beginner's Park. Ski schools are also available for beginners of every age.
Experienced skiers will delight in the diverse options available to them here. Skiers and snowboarders alike can head to the high-altitude Gravity Park to try out new tricks and play within a man-made snowscape. Also in the Matterhorn glacier paradise area is the longest downhill slope in Europe, which goes for an astounding twenty-five kilometers. If you still haven't had your fill, head over to the Gornergrat and Rothorn skiing areas, where you can ski several hundred more kilometers of beautiful snowy action.
Other Excursions
Good news for those who do not wish to ski – Zermatt offers plenty of other activities for you to enjoy. In the village alone, there are a plethora of excellent restaurants to choose from, though you don't even have to go that far to relax. Most hotels have their own spas for you to enjoy, featuring indoor and outdoor jacuzzis, steam baths, and saunas. Zermatt can also be enjoyed through shopping, or by simply taking in the quaint yet beautiful Swiss architecture.
Outside the village, you'll be able to indulge in some of the best Zermatt mountain excursions and enjoy your fair share of adventure. Hiking or taking chairlifts will grant you beautiful views of the picturesque Matterhorn, but there are other peaks to enjoy as well. The peak of Klein Matterhorn (or "Little Matterhorn") can be accessed via the Gornergrat Bahn railway. Head up here to get gorgeous views and say you've climbed one of the Swiss Alps. From here you can also take the relatively easy three hour hike to the top of Breithorn. Be sure to hire a guide if you want to embark on this latter excursion.
Header photo by Samuel Ferrara on Unsplash